Play BP Offshore Oil Strike
70s board game family fun
In the 1970s, an obscure board games publisher called Printabox collaborated with BP to design a game called BP Offshore Oil Strike.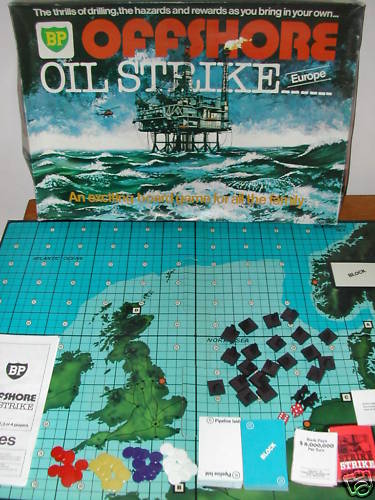 Will You Strike Oil, Dry Hole or Hazard?
Here are some rules (courtesy of Boardgamegeek):
Two to four players compete at exploring for oil, building platforms, and laying pipelines to bring the offshore oil back to the player's home company. Players take on the roles of either BP (Hull), Amoco (Bergen), Chevron (Rotterdam) or Mobil (Dieppe) in their quest for oil. As with other games focusing on offshore oil exploitation (e.g., Omnia's North Sea Oil), there is also the risk that storms will reduce production on, or eliminate, one's oil platforms. The first player to make $120,000,000 in cash is the winner.
It could be yours - at least two copies of the game are for sale on eBay UK. You too can enjoy:
"The Thrills of Drilling,the Hazards and Rewards As You Bring in Your Own Offshore Oil Strike."
This doesn't sound like a game you can afford to lose. We think we'll pass for something less rewarding.
Hat tip to Enzo