Ireland debuts Fone-a-Freetard lottery
But what's the point, again?
A pilot scheme cracking down on copyright pirates is now underway in Ireland. But what's it supposed to achieve, exactly? After reading the details you may be as puzzled as we are.
The experiment is the result of an out of court settlement between the major labels and ISP Eircom last year, in which the latter agreed to introduce a 'graduated response' scheme for infringers. Eircom will process around 50 infringement notifications a week, in a sort of national anti-lottery.
Things then move along quite swiftly. Suspected freetards will then receive a letter, email, a phone call - imagine that!*- or even a web popup. And there's no wallying around with Ofcom research, Privacy Impact Assessments or Tribunals. If a 'tard clocks up four of these, they're disconnected.
In theory, it could be little over a month from the start of the process to the Final Sanction: from the first notification, to the user enjoying their first porn-free summer weekend in years. It all sounds draconian, but is it really?
Mark Mulligan at Forrester Research has spotted a flaw - and this in itself raises an interesting question. He asks what the chances are of becoming a repeat offender, therefore slipping down the graduated response scheme.
"The odds of that happening are probably not far off those of winning the lottery. So if this approach is going to have any teeth, it will need to ensure infringers are pro-actively monitored after being identified the 1st time."
In other words, the nags may swiftly become an ignorable nuisance. The monitoring is presumably being undertaken by the labels, their trade body Irma (the Irish version of the BPI), or an agent acting on their behalf.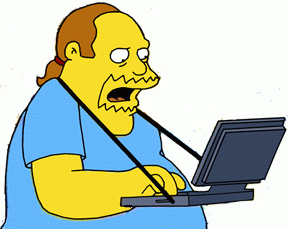 This man may soon be receiving... a phone call
You can work out the odds like this. If Eircom has 750,000 subscribers, around 250,000 will be infringing in a given time period - say a month. A random 50 a week of this group will receive warnings. Then another 50 are plucked from the 250,000. The chance of becoming a repeat offender is, er… quite remote.
According to Irma, the Irish version of the BPI, this isn't a flaw. It cites research showing that 80 per cent of P2Pers would stop if they got a warning letter threatening disconnection. (Two years ago research indicated 70 per cent would stop upon receiving a disconnection notice.)
But people aren't daft. The disconnection notice has to carry some weight. Tens of thousands of letters have already been sent out here in the UK, without a significant impact on file sharing. That's really what the file sharing provisions in the Digital Economy Act were all about, and why the Government decided to intervene.
Mulligan has another warning for the music business. Unless Eircom introduces a carrot to go with this (rather bendy, admittedly) stick, then file sharers will simply go "off network" - to sites such as Rapidshare which are much harder (and more expensive) to police.
"Unless genuinely compelling legal alternatives are in place(e.g., cheap, subsidised all-you-can-eat MP3 subscriptions)," writes Mulligan, "enforcement will do little other than accelerate the off-network trend."
Let's summarise. If you're a music fan, you're not getting any new or innovative new music services. If you're a copyright holder, the public will soon rumble that the threat is empty, so infringement wouldn't decline. If you're an ISP, you have an added layer of processes and bureaucracy to handle.
Is it all just a token gesture, then? ®
Bootnote
An unsolicted attempt to engage somebody in conversation while they're downloading must surely be an 'ooman rights matter? We need a Uninterrupted Web Surfing Act. Somebody should tell the ORG.
Sponsored: Detecting cyber attacks as a small to medium business