Cops cuff coke-smuggling lingerie model
'Charlie Angels' boss detained in Buenos Aires
Argentinian cops have cuffed the Colombian former lingerie model accused of running a "Charlie Angels" drug-smuggling racket.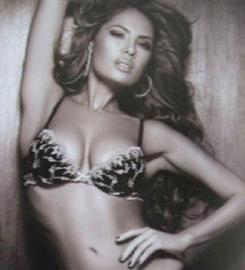 As we previously reported, Angie Sanclemente Valencia, 30, was crowned her native land's Queen of Coffee in 2000, but allegedly following a relationship with a Mexican drug lord dubbed "The Monster", decided to ditch both him and her modelling career to establish her own Argentina-based narcotics business.
She set up shop in Buenos Aires, and used other models described as her "unsuspicious, beautiful angels", authorities claim, to smuggle cocaine from Colombia and Argentina to Europe, via Cancun in Mexico.
Her glamorous mules were recruited by a young male model, Ariel L, with whom she was having an amorous relationship, according to Colombia's El Tiempo. The operation began to fall apart when Ariel L's 21-year-old (other) girlfriend, was detained last December in Buenos Aires's Ezeiza International Airport with 55kg of cocaine in her suitcase.
Ms Sanclemente Valencia quickly disappeared from her four-star hotel, while Ariel L was arrested. His alleged boss was able to evade the police dragnet until yesterday when she was apprehended in a hostel for foreigners in the Argentinian capital.
Her lawyer, Guillermo Tiscornia, said while his client was on the run that she'd decided not to hand herself in "because she was afraid of being raped or mistreated in prison". For this reason, she requested an "exemption" from being jailed, which was denied.
Sanclemente Valencia's mother, Jeannette Valencia, who flew to Argentina a few weeks in support of her daughter, protested after her arrest: "She is not a drug trafficker, nor is she the queen of cocaine. There's a plot against her. She will prove her innocence."
In an interview with El Tiempo prior to her cuffing, Sanclemente Valencia denied any connection with drugs or that she'd ever been in a relationship with anyone called "The Monster". She said she'd travelled to Argentina to spend Christmas with the family of her real boyfriend, Nicolás Matías Gualdo, and had been set up by some of his relatives, who she claims really are knee-deep in cocaine.
Gualdo was himself arrested in February, and is now languishing in jail. He's apparently confessed to involvement in the drugs trade, much to the surprise of his girlfriend.
Sanclemente Valencia's version of events can be found here (in Spanish). ®
Sponsored: Detecting cyber attacks as a small to medium business