Acer CEO whips out iPad rival
Regular e-book reader too
Acer has shown off an Android-based iPad alternative.
CEO Gianfranco Lanci whipped out the 7in colour-screen gadget at a press event in Beijing today and promised to bring the unnamed product to market in Q4.
Oddly named website Shufflegazine took a snap of Lanci and Acer's new baby.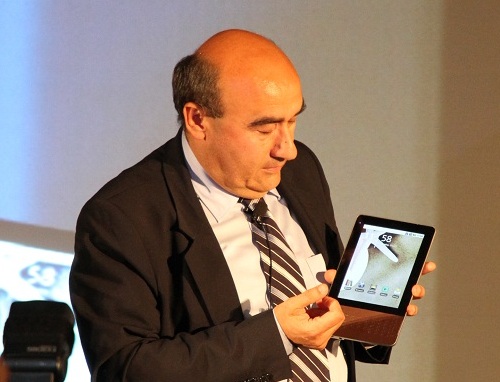 Acer's tablet and friend
Credit: Shufflegazine
Lanci apparently said that Acer may seek to offer the device through mobile phone networks, implying a model with integrated 3G connectivity. It also sports a Kindle-style Qwerty keypad.
The tablet's appearance comes three months or so after Acer Taiwan chief Scott Lin said the company had no plans to launch a gadget along the lines of Apple's iPad - even though a colleague - Jim Wong, head of Acer's IT products division - had previously said the company was working on such a device.
Wong's claim was made a week before Apple announced the iPad, Lin's a few days after. Did Acer suddenly get cold feet, or wasn't Lin in the loop?
Whatever, the Q4 debut will mean Apple has plenty of time to ramp up production and expand the iPad's userbase.
Acer also announced today the Q3 release of LumiRead, a more traditional e-book reader with a 6in E Ink screen, 2GB of on-board memory and an SD card slot for more. ®