HTC Smart mobile phone
Fancy a Brew?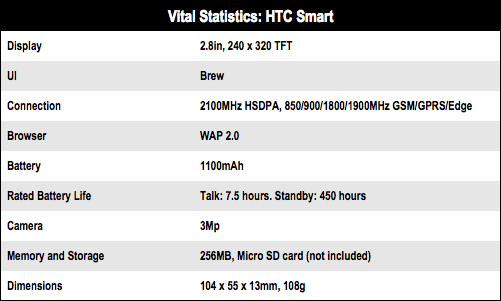 Watching video could be a frustrating affair. It doesn't seem to be able to play video that's in anything higher than the screen's native resolution, and though there's the option to stretch the picture slightly, it won't fill the screen, so there tends to be a bit of squinting involved when you're watching MP4 or 3GP files.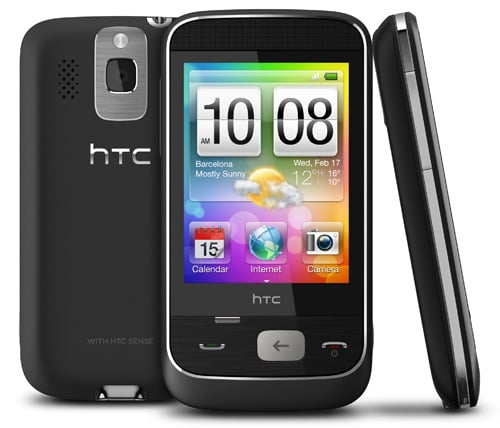 A modest feature set and CPU are a boon to battery life
The music player is decent enough and if it lacks the kind of extras available on fancier smart phones, it's at least clearly laid out and sounds okay when playing AAC, MP3, WMA or WAV files. The same goes for the FM radio with its six presets. The headphones are cheap of course, and even a little nasty with their shut-in high end and bloodless bass. Still, at least the 3.5mm headphone jack – and A2DP Bluetooth – makes upgrading them easy.
We've got used to high-end smart phones barely making it through a day of heavy use, so it was a pleasant surprise that the Smart lasted a good three days before needing a recharge – one of the advantages of having an underpowered processor perhaps. Call quality was generally decent, with no sign of the Smart's budget origins obvious from the speaker.
Verdict
It comes down to what you want from your smart phone. If you need Wi-Fi or GPS, or like to experiment with different apps, this won't be the phone for you. But if you want a decent looking handset that can organise your life, play music and video and surf the web, all for under a oner, it's definitely worth thinking about. ®
More Mobile Phone Reviews

Sony Ericsson
Elm
Samsung
Diva
Nokia
X3
LG
GD510 Pop

HTC Smart mobile phone
Smartphone looks and style on a budget, but there may be too many corners cut for some.
Price:
Free with O2 contract or £100 PAYG RRP