Apple tweaks MacBook spec
Better CPU, GPU; price unchanged
Apple has quietly upped the MacBook's processor to a 2.4GHz Core 2 Duo. The old Nvidia GeForce 9400M graphics chip is out, too, replaced by a new GeForce 320M part.
None of this extra graphical and CPU horsepower comes at the cost of reduced battery life. Quite the reverse: Apple claimed the new machine can deliver up to ten hours of runtime.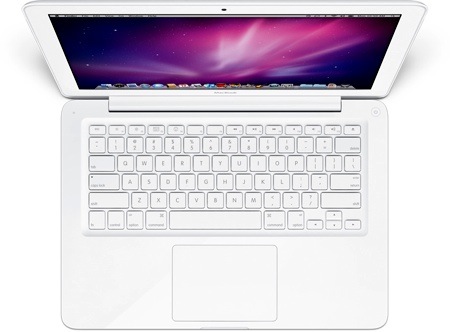 The plastic-plated laptop's other specs remain the same: 13.3in 1280 x 800 display, 2GB of DDR 3 memory, 250GB hard drive, 8x dual-layer DVD burner, 802.11n Wi-Fi, two USB 2.0 ports, Gigabit Ethernet and a Mini DisplayPort monitor connection.
The £849 price point remains the same too. The new MacBook is available immediately. ®