Vision Solutions does a Double-Take
IBM Power player snaps up x64 outfit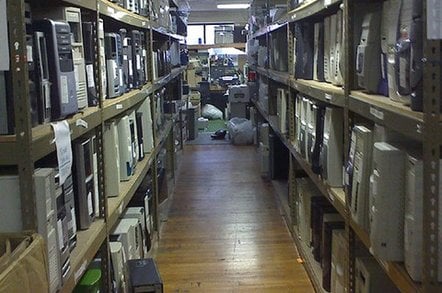 Private equity firm Thoma Bravo snapped up the three major players in the high availability clustering and data replication business for IBM's proprietary Power-based midrange systems in 2006 and 2007, and now the resulting company the equity firm put together, Vision Solutions, has been given a $242m bag of cash by its sugar daddy to buy Double-Take Software, which also does clustering and replication on x64 servers running Windows and Linux.
Vision had a partnership with SteelEye Software for high availability clustering and data replication for Linux servers and had already partnered with Double-Take for similar functionality to peddle to IBM midrange shops that also need to do disaster recovery on the Windows boxes they have at their sites. In many cases, the aggregate amount of Windows computing power, used for infrastructure workloads but also sometimes for applications and databases, far outweighs the oomph of the Power-based systems that tend to run mission-critical, transaction processing systems at Power Systems shops. Windows is not as prevalent at these IBM midrange shops. Hence, Vision bought Double-Take and not SteelEye.
As El Reg reported last week, rumors have been swirling around that at least three potential suitors (all buyout firms) were sniffing around Double-Take. Brenon Daly of the 451 Group suggested that Vector Capital was one of them. We now know that Thoma Bravo was the other, and we also know that the equity firm is ready to pay $10.55 in cash per share for Double-Take, a 21 per cent premium over its closing price on April 9, when Double-Take started considering offers.
This acquisition price of $10.55 per share is about where the company's stock was trading through most of April; before that, shares were in the $8 to $9 per share range, and fell back to $9 after the company's first quarter results came out in early May. Rumors of the takeover helped push Double-Take's share prices back up again in the past couple of weeks.
Double-Take, which was formerly know as NSI Software, has just under 400 employees and like many IT suppliers, the company took its lumps thanks to the economic meltdown in the past year. In 2008, despite the softening IT market, Double-Take grew sales by 16.4 per cent, to $96.3m, but net earnings fell by 12.1 per cent, to $17.6m. That said, bringing nearly a fifth of revenue to the bottom line is not bad for any software company. In 2009, Double-Take's sales dropped by 13.6 per cent, to $83.2m, and net income fell by 22.9 per cent, to $13.5m. As you might expect, Double-Take's shares have taken some hits, even though they are fairly young. The data replication company went public in December 2006 at $11 per share, and it peaked a few times at $25 in late 2007 before the recession kicked in.
Under the terms of the deal worked out by Thoma Bravo, Vision Solutions will take control of Double-Take for $242m, but when you net out the $88.7m in cash and equivalents that the company had as the March quarter ended, Thoma Bravo is really only paying $153.3m for the company. (Argue amongst yourselves as to whether the Double-Take stock price already has this $88.7m in cash cooked into it).
In reporting its first quarter results, Double-Take said it expected for revenues to be in the range of $84m to $88m for the full 2010 year, and the company did not provide GAAP net income guidance. In the first quarter, sales were up 3.9 per cent to $18.9m and the company continued to be modestly unprofitable, booking a loss of $227,000.
Thoma Bravo has already lined up its debt commitments for the acquisition, and expects to close the Double-Take deal in the third quarter, subject to shareholder and regulatory approval. As you might expect, at least one law firm specializing in class-action shareholder lawsuits, Levi & Korinsky, announced in the wake of the deal's announcement that Double-Take didn't shop the company around enough, saying that analysts had been expecting an offer of $11 per share, with one saying $12 was more like it.
Of course, these are the same Wall Streeters who happily drove the global economy off a cliff because they couldn't do math. Or wouldn't. The price of something is what the market will bear, and presumably $10.55 per share is the best deal Double-Take could get - particularly with sales not growing substantially this year and profits under pressure. ®
Sponsored: Your Guide to Becoming Truly Data-Driven with Unrivalled Data Analytics Performance