Ten Essential... Android Games
Get gaming on your Google phone
Product Round-up If there is one thing that iPhone owners can be smug about it's the number of quality games available from the iTunes App Store. But Android owners needn't feel too badly done by - the Android Market has a few choice gaming applications all of its own.
This list is unapologetically personal, and several well regarded games like Mystique, the Wipeout clone Speed Forge 3D and the platform jumping cows game Abduction: World Attack didn't make the cut because frankly I just didn't have as much fun playing them for any period of time as the ones below.
All the games played well on my humble T-Mobile G2 Touch/HTC Hero running Android 1.5, but the bigger the screen and the faster the phone the better, so make sure you enter Reg Hardware's Sony Ericsson Xperia X10 competition.

Air Hockey
Games don't get much more simple than this, but a simple idea well executed still deserves recognition. The great thing about this air hockey game is that your mallet always sits just ahead of where your finger touches the screen so you can see what is happening and finesse the angle at which you strike the puck.
Mallet and puck movements are fluid and very well judged, and the sound effects are spot on, all making this as close to a decent game of air hockey as you can get without actually having an air hockey table in your basement.
Spring 50p for the full version and the computerised opponents gets better and faster as your own your skills improve. You also get a two-player mode which lets you and a friend play on the same screen. Of course, as you will both be hunched over the same phone screen it will need to be a very good friend, at least until a sizeable Android tablet turns up. JJC reckons the two-player version only works on Motorola Droid handsets but it worked fine on my Hero.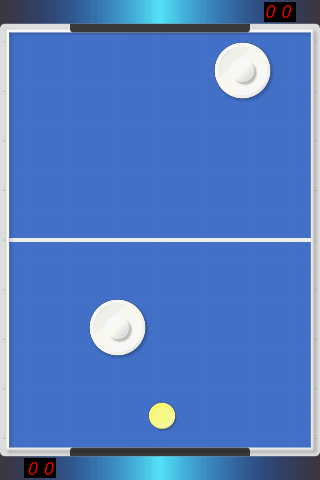 ---

Reg Rating 80%
Price £0.50
More Info JJC Games

Buka
In this strange blend of Asteroids, Pokémon and Missile Command your task is to protect a space travelling anthropomorphic blue globe called Buka from the depredations of various grinning baddies by using sonic deflectors, explosive charges or simple evasion as he/she/it travels to a Happy Place.
As the levels mount, the bad guys get faster and more frequent leading to frequent Missile Command moments of meltdown when you are simply overwhelmed. Sonic deflectors are triggered by rapidly tapping the screen while explosions are set by holding down on an area and then letting go... kaboooooom.
The sonic pulses can also be used to direct Greeny Pieces - don't ask - towards Buka which is a good thing for reasons never made entirely clear. But never mind, this isn't a game to over think.
Buka's various chirrups and warbles are translated in speech bubbles and are nowhere near as annoying as you would expect, leaving you feeling strangely protective of the weird little blue ball. All in all probably a game for the youngsters but there is no harm in letting your inner child out for a romp once in a while.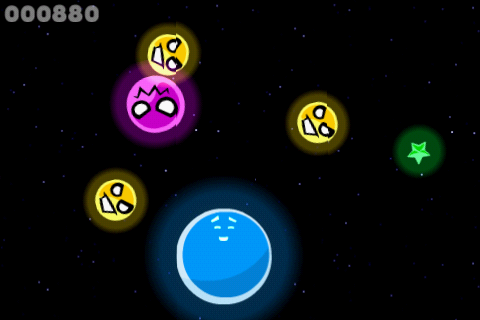 ---

Reg Rating 85%
Price £1.50
More Info Hexage