Unlicensed software use 'may have peaked'
IDC perceives pirate plateau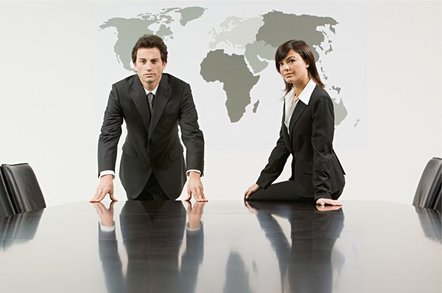 The growth of illegal software use may have peaked, according to research firm IDC. It said that if current trends continue the percentage of computers running unlicensed software worldwide will be the same in 2010 as it was in 2009.
IDC has produced a report on unlicensed software use for anti-piracy lobby group the Business Software Alliance (BSA). The report said that unlicensed software was being used on 43 per cent of the world's computers, up from 41 per cent a year ago.
But the report said that this figure could be peaking, and that if current trends continue then it could stay flat in the next 12 months then begin to drop.
Unlicensed software use is much more prevalent in developing countries than in the world's biggest economies. Zimbabwe, for example, has piracy rates of 92 per cent.
The overall rate has been rising because growth in computer sales in emerging countries is outstripping growth elsewhere. Because those computers are more likely to be operating pirated software, the rate has been rising.
But IDC's report said that piracy rates in the developing world are falling, and that that could soon influence the worldwide piracy rate.
"If piracy remains the same in all economies, the global PC software piracy rate would go up by one percentage point in 2010," it said. "However, if the PC software piracy rate were to drop by one percentage point in the emerging markets only, the global PC software piracy rate would remain the same as the 2009 level."
"This is basically what happened this year: piracy in emerging markets dropped by slightly more than one percent. If that pace is sustained next year, it is possible that global piracy will have peaked in 2009," said the report.
The report found that the rate of use of unlicensed software in the UK stayed stable, with 27 per cent of the software running on UK computers without a licence, according to IDC researchers' estimates.
The report said that the rate had previously fallen but that buoyant consumer sales of computers kept it level. Consumer machines tend to have more pirated software on them than business computers, it said.
The rate had been 27 per cent between 2004 and 2006, had fallen to 26 per cent in 2007 but rose again in 2008 to 27 per cent, where it has stayed this year.
The percentage of computers running unlicensed software fell in 54 countries in the world according to IDC's estimates and only rose in 19.
"The [report] shows there was some progress in the global fight against software piracy in 2009 – but incremental change is not enough," said BSA chief executive Robert Holleyman. "Piracy is limiting IT innovation, job creation, local economic growth and is robbing governments of vital tax revenues. Our report makes it very clear that governments around the world must redouble their efforts to combat software theft."
IDC estimated that piracy rates were lowest in the US, Japan and Luxembourg. The UK had the sixth lowest rate in the world, according to the report.
See: The report (22-pg/1.2MB pdf)

Copyright © 2010, OUT-LAW.com
OUT-LAW.COM is part of international law firm Pinsent Masons.