Viewsonic VMP74 1080p media player
You want codecs? It's got 'em
There's a Web browser too, although I don't think I'll be using it much. There's no Flash, and too many misformatted pages. I found it a real struggle to navigate with the remote-driven mouse that crawls around the page and then suddenly chooses to hop from button to button.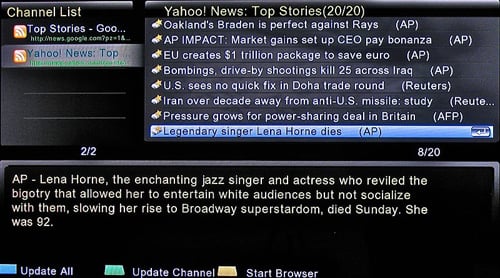 A very usable RSS interface delivers world news to your living room.
For Web news though, adjacent to the Web icon on the main menu is an icon for RSS. By default, this is set to the Google and Yahoo! News feeds, but you can add your own feeds to taste. If the feed story is continued on a Web page, a single press of a button will take you there.
You can improve the Web navigation by plugging a USB mouse and keyboard into the VMP74. Alternatively, the remote control button marked SORT/EPG will pop up a virtual Qwerty keyboard. When you're accessing YouTube, the same key offers a simple sort of the clip titles, and you only get the keyboard when you visit the Search icon. This keyboard, however, is alphabetic rather than Qwerty.
The same alphabetic keyboard turns up when you're trying to set up Samba Client Access (SMB). Here I have to confess defeat - my samba servers show up on the VMP74 but I can't access their content. The otherwise helpful built-in manual - found under Settings - simply says tersely: "As long as the network is linked and no firewall is blocking shares from remote sites, there is no additional set-up to enable this feature." Which probably means password-protected Samba shares (like mine) can't be accessed.
Verdict
Excellent at its main job as a UPnP client, great for YouTube in the living room, and a decent RSS viewer, the Viewsonic VMP74 is overall an impressive adjunct to your HD TV or projector. I understand that new firmware is on its way to bring BBC iPlayer to life - and hopefully improve the browser and fix the Samba problem - but even without it the device suggests itself as a very worthy successor to my faithful ShowCenter. Only the similarly capable but much cheaper (£50) Hisense 1080p Media Player - reviewed here - stops it scoring more highly. ®
More Media Player Reviews

Hisense
1080p
Media Player
Western
Digital
WD TV
Popcorn
Hour
C-200
Conceptronic
Grab'n'Go
Sponsored: Practical tips for Office 365 tenant-to-tenant migration

Viewsonic VMP74 1080p media player
Bites off rather more than it can chew browser-wise, but don't let that and a few other niggles put you off. This is an impressive little piece of kit.