Quantum struggles to break restraining chains
It hasn't got its growth taped - yet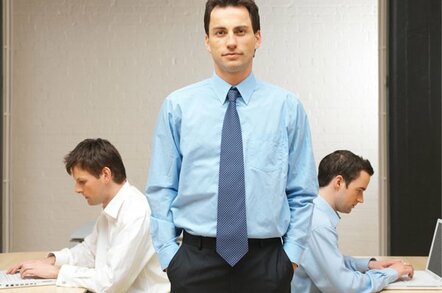 Comment Still making a loss, still facing revenue declines, still making progress; that's Quantum's fiscal 2009 story in a nutshell.
Rick Belluzzo's company recorded final fiscal 2010 revenues of $164.45m, down from the year-ago quarter's $168m. There was a loss of $4.37m, an improvement on the year-ago loss of $11.9m.
The full year results provide a more pleasing picture. Fiscal 2010 revenues were $681.43m, down, as expected, from fiscal 2008's $809m. But in a pleasant surprise, fiscal 2010 net income was positive, a profit of $16.63m, as opposed to fiscal 2009's thumping loss of $358.3m.
Other good things were the fiscal 2010 profit, Quantum's best such performance in eight years, and the year's 41.1 per cent gross margin, the best for nine years.
There's visible progress in moving Quantum away from the declining tape market and OEM sales and towards the sunny prospects of disk-based and software products. Belluzzo said that DXi deduplicating storage arrays recorded good growth and the StorNext file system layered on a SAN made progress too.
These two products are expected by Belluzzo to be main drivers of growth in fiscal 2011 where Quantum's focus is going to be firmly on revenue growth. Quantum now describes itself as a storage systems company, not a tape or a data protection company.
Disk systems revenue in fiscal 2010 were $95m, compared to $23m in fiscal 2009. Its other focus is to move to Quantum-branded product sales and away from OEM sales. There's progress here too, branded business in fiscal 2010 being 74 per cent of non-royalty revenues, up from 67 per cent a year ago.
It's very, very hard for an established company in a declining market sector like tape to break free of the restraining chains and become a growth star. Such companies are rarely first into a booming market and garner second-level benefits, not the first-level ones enjoyed by companies like Data Domain who face no legacy baggage constraints.
Quantum is far from abandoning the tape market, launching new libraries and LTO5 kit recently. However, its disk and software revenues are still not growing fast enough to compensate for declining tape system revenues, and the fiscal 2009-2009 revenue decline is mostly due to lower OEM revenues, meaning lower tape system revenues.
Will Quantum break free of its past in its fiscal 2011? That depends on how well it rides the deduplication wave, where Data Domain recently introduced OST-based deduplication pre-processing to Symantec media servers and gained a substantial performance boost. Quantum surely must do the same thing as fast as possible - it already supports OST - and extend the same facilities to the other backup software suppliers equally quickly. It simply cannot afford to get trounced and left behind by Data Domain.
Secondly, in El Reg's view, Quantum must keep an eye on the inline deduplication of primary data being offered by Nimbus Data and WhipTail and, as soon as the performance and longevity claims are substantiated, leap into the market with flash-based DXi products and lead the market.
Then, of course, there is the cloud. Quantum needs a strategy, and could partner with a cloud service and product supplier, such as Nirvanix to have old and inactive data squirted off from DXi boxes to the cloud. You can imagine Belluzzo's eyebrows raising at this: "More trouble. Don't you realise that tape is the best and cheapest long-term data archival storage medium?"
Granted, Quantum gets bennies from linking its disk boxes to its Scalar libraries in an overall D2D2T scheme but the world is moving on, on towards D2D2C where C means cloud. It's no use being in denial; it's happening and Quantum needs, we feel, a cloud strategy as well as a tape strategy. If it could store tape data in the cloud then that would be a neat and unique trick to pull.
Back to earth and the DXi products; the StorNext software doesn't have such good growth prospects in our view, and the key to earning much more cash in its current and next financial years is the DXi line. It has to succeed for Quantum to succeed in becoming a growth company again. ®