WhipTail whips VDI's ass
Cheaper than disk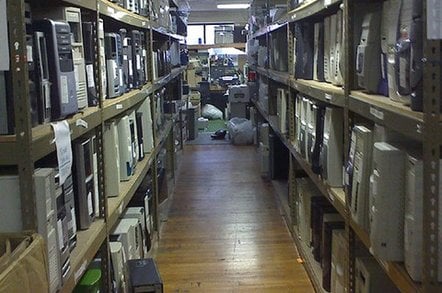 WhipTail claims that its flashy solid state XLR8r appliance is more cost-effective than EMC and NetApp disk drive arrays for hosting virtual desktop images (VDIs).
The device is known as the Racerunner Virtual Desktop XLR8r. Accelerator. Geddit?
WhipTail's pitch is that it's cheaper to host thousands of VDIs on this than on an EMC or NetApp storage area network (SAN) Fibre Channel hard disk drive array because you get many more IOPS out of its NAND solid state for a far lower price than a hard disk drive (HDD) array hosting same number of hosted VDIs.
WhipTail reckons that a fully loaded production-ready virtual desktop image requires between 20-40 IOPS to run at an acceptable level. A standard HDD array with 15,000rpm Fibre Channel drives runs at 200 IOPS per drive.
Okay. Let's say an average VDI needs 30 or so IOPS and a single disk drive could support 7 VDIs. WhipTail says the Racerunner XLR8r offers 90 times less latency and 150,000 read IOPS in its single 180 watt, 2U appliance, and that it's had "clients scaling over 5,000 VDI users on a single [RaceRunner] appliance" since 2008.
A WhipTail whitepaper (pdf) states:
A virtual desktop requires from 20 to 40 IOPS per image to run at an acceptable level.

Fibre Channel HDD arrays from common Tier One storage companies such as EMC and NetApp deliver approximately 200 IOPS per drive.

This means a 5,000 person user environment requires roughly 250,000 IOPS to perform at minimal user expectations and standards. At 200 IOPS per HDD, 625 drives are needed to meet this performance requirement. This corresponds to a performance cost ratio of $8 per I/O operation per second. Using Racerunner, this cost drops to 37 cents per I/O operation per second!
WhipTail says it has tuned its technology to produce the XLR8r, which copes with the random I/O needed by VDIs through having things like block size and queue depth tuned to get more performance.
But it doesn't tell us how many more VDIs are supported because of this. Jur Faber, the CEO of Consolidate IT, WhipTail's Netherlands-based value-added distributor for Europe, says: "One Racerunner solid-state SAN can scale to over 5,000 users at one tenth of the price of a standard HDD array," pumping out the same number of IOPS.
If it's that simple, WhipTail should be beating HDD array vendors' asses, and there should be wholesale migration of VDIs off hard disk drive arrays. But perhaps it isn't that simple.
You can find out a little more here (1-page pdf). We looked at it to see that WhipTail reckons a single XLR8r replaces six fully-populated HDD racks which cost, it claims, $8 per I/O, while the XLR8r delivers the same number of I/Os for $0.37. That's 22 times cheaper, with 90 times less latency.
How a 22 times lower cost per I/O translates into a 10 times lower cost for the XLR8r compared to an equivalent IOPS hard drive array is not clear. WhipTail isn't presenting a detailed cost analysis here.
It says the XLR8r can be used for SQL, Oracle, Exchange, and OLTP applications, and it offers inline block-level deduplication of VDI images and compression of databases. The white paper claims "Virtualisation environments achieve reduction ratios of up to 300:1." Compression is less effective: "Database and network-attached storage (NAS) environments achieve typical reduction ratios of 4:1."
The white paper suggests that WhipTail is taking advantage of its inline deduplication to reduce the amount of flash capacity needed and so lower its acquisition cost compared to the EMC or NetApp arrays. In a section about VMware ESX and XEN servers, the whitepaper states: "With Racerunner, you can dramatically optimise your storage by using only enough space to store 10-15 per cent of what you have provisioned."
So that's how WhipTail does its EMC/NetApp array financial comparison trick. It's thin-provisioning its SSD capacity by deduping VDIs stored on the appliance. How neat.
There are three XLR8r models, the WT1500, WT300, and WT6000 with 1.5TB, 3TB and 6TB capacity respectively, each offering the same 150,000 IOPS performance. The whitepaper mentions a 7.5TB model which is not present on WhipTail's web site product page. The white paper is dated May 2010, so it looks like we have a WT7500 product coming.
We asked WhipTail how many more VDIs were supported on the XLR8r appliance with its tuning, compared to the 2008 WhipTail device, but the firm wasn't immediately able to answer.
If WhipTail's XLR8r claims stand up to scrutiny, then suppliers like 3PAR selling into the VDI space may be in trouble in that market.
The XLR8r appliance is available immediately, with the manufacturer's suggested retail price starting at $49,000. It supports Citrix, VMware and Microsoft virtual desktop environments. ®
Sponsored: How to get more from MicroStrategy by optimising your data stack