Cideko Air Keyboard motion controller
Wii 'mote, meet keypad
Review Imagine the result of a quick bunk-up between a wireless keyboard, a regular games controller and a Wii Remote, and you will be close to understanding what the Air Keyboard controller is all about.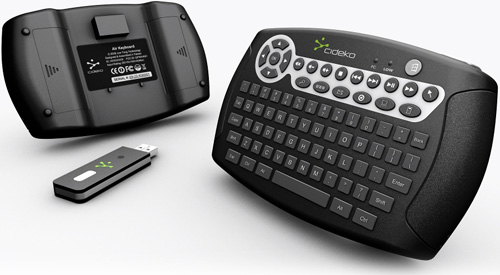 Cideko's Air Keyboard: Back and dongle
The Air consists of two units: a two-handed controller about the same size and weight as a Sony PlayStation Portable, and a wireless USB dongle that you plug into whatever computer you have connected to your telly. A nice touch: when not in use, the dongle can be slotted into a receptacle on the back of the keyboard for safe keeping.
Hold the Air in both hands as you would a games console controller and its 80 keys fall easily to hand - or thumb, to be more precise.
Two bumper switches on the front edge of the unit act as left and right mouse buttons. The left one also doubles up as the on/off switch.
But the real trick up the Air's sleeve is its motion sensor, which lets you move the cursor around the screen by tilting the Air to the left or right about its vertical axis, or back and forth about the horizontal.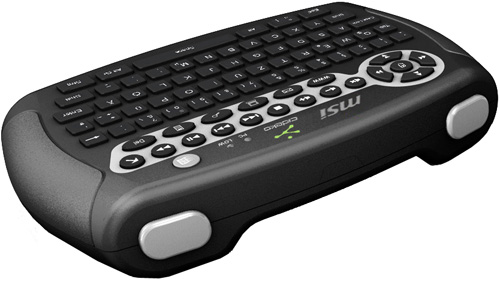 Bumper switches on the front work as mouse buttons
The accelerometer's calibration is very well judged, making the whole tilt-to-move system very easy to master and undemanding to use even over long periods, especially when combined with a big TV screen.
Sponsored: Detecting cyber attacks as a small to medium business