Come to Swindon - and play Human Pac-Man
Pill popping, ghost gulping figurehead
Saturday 22 May is the 30th anniversary* of Pac-Man, the seminal arcade video game from Namco Games, and the Museum of Computing at Swindon has cooked up three events to celebrate.
Weirdest - or most imaginative - is the "Human Pac-Man", played in a maze constructed for the occasion in Swindon town centre's Wharf Green.
Says the Museum:
Members of the public will be able to control a real-life Pac-Man, trying to avoid the giant ghosts while collecting dots. It's anyones guess what will happen when Pac-Man grabs a 'power pill' and the tables are turned on the ghosts! Participants and onlookers will be able get a bird's eye view of the action thanks to a video camera feeding Swindon's twenty-five square metre 'Big Screen'.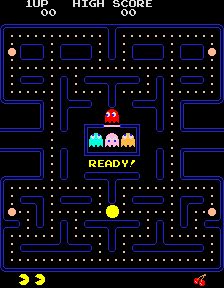 The Big Screen also hosts "one of the largest versions of Pac-Man ever played [You mean there's bigger? - Ed]
At the Museum, gamers can relive their youth, summon up Pavlovian responses, bore their children and so on, by playing Pac-Man on sundry retro games consoles, such as the Nintendo Game Cube, the original Game Boy and Sega Master System. And if they have time after so much excitement, they can check out the dedicated Pac-Man event.
And over to Andy Romain, a Museum volunteer, for this lovely homage:
"Pac-Man - the pill popping, ghost gulping figurehead of a gaming revolution!

"Pac-Man was my first introduction to cocktail cabinet gaming. Sitting with a pint of coke and being drawn into the neon-like maze world of this little yellow iconic character. Then I was thrilled when I was given a Grandstand handheld version of the game."
The revolution may be long gone, but 30 years on and Pac-Man is still going strong - as a popular iPhone game. ®
*Pac-Man was released in Japan in 1980.