iPad, iPhone driving 'renaissance' in nuclear reactors
Want to build a nuke? There's an app for that
The world-renowned Jesus mobe and its new, selectively crippled large version the iPad are well known to be generally the choice of your arty, creative, polo-necked right-on type.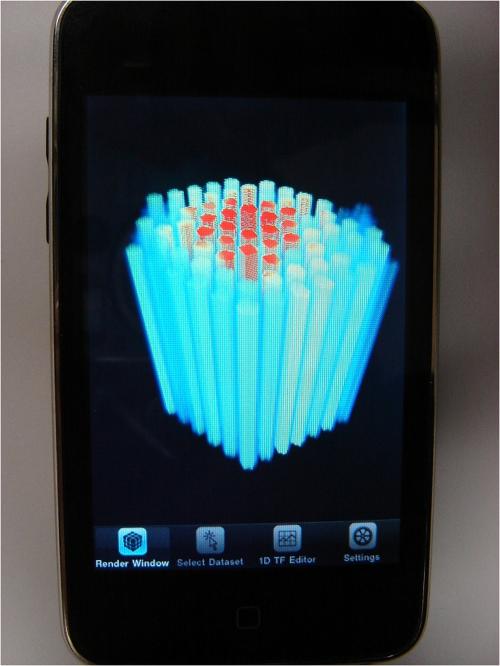 Touchscreen reactor core magic at work.
Cruel capitalistic business executives have BlackBerries; phone nerds have Android handsets; some weirdoes even prefer Windows Mobile (at least until WinMo 7 delivers Apple-style iron fist control from the company). But iPhone and iPad users are lovely, shiny people who share tweets with Stephen Fry and rejoice in the fact that their lovely gadgets are now endorsed by Greenpeace.*
Not any more. This week a new community invaded the portable fondle-slab community, using the delightful gadgets of hope and love for the most un-Greenpeace purpose of all: that of designing nuclear reactors. Oh yes - there's an app for that.
The news comes in this announcement from the University of Utah, headed "iPhone Goes Nuclear"!
It seems that staff and trainee nuke boffins at Utah are using an app called ImageVis3D, available free on iTunes, to display reactor simulations and modelling.
Tatjana Jevremovic, director of the Utah Nuclear Engineering Program, says the iPhone is "a phenomenal teaching tool" and that it lets engineers "look at existing nuclear power plants and predict the performance if we want to increase the power or prolong their life".
According to the statement:
Jevremovic, Shanjie Xiao, a postdoctoral fellow in nuclear engineering, and Xue Yang, a graduate student in nuclear engineering, designed an interface so ImageVis3D Mobile can be used to display the results of reactor simulation software ... on an iPhone, iPod, iPad and other computers.
"We certainly have to consider the environment for our children," adds Jevremovic. "The future is nuclear energy for many reasons. It's safe and proven technology. We have more than 40 years experience in operating nuclear power plants ... there is now an overall renaissance in nuclear engineering."
There's bad news for any iPhone or iPad users out there keen to download ImageVis3D and get cracking on a basement reactor for purposes of microgeneration or as a tool for manufacturing weapons-grade plutonium. It seems you also need another piece of software called AGENT (Arbitrary Geometry Neutron Transport), which isn't at the moment commercially available. ®
*Apart from the Taliban ones, that is.