Sharp Aquos LC-46LE821E 46in quad-pixel TV
Do yellow sub-pixels really make for a better picture?
In fact, it's not so very different, general telly spec-wise, from Sony's Freeview HD set, the Bravia KDL-EX703, reviewed here. Unlike the Sony, the Sharp lacks 24p playback for Blu-ray Discs.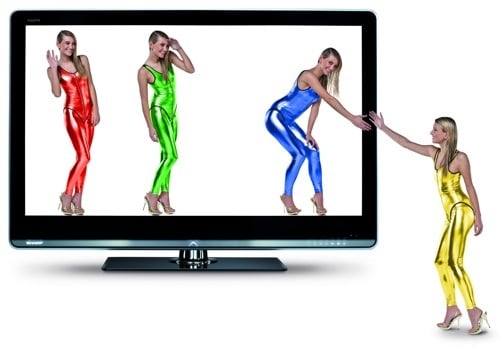 Sharp's boffins explain Quattron technology
The set supports DLNA networking, so you can connect it to a home network and stream photos and music from a networked media server – although you can't stream video for some reason. There's no internet connectivity or any kind of web-based service either.
The unit I tested only had a standard Freeview tuner on board, but Sharp confirmed that it will be fitting Freeview HD tuners once the model starts shipping in the UK.
One interesting feature here is that the 46LE821E has a small amount of internal storage that allows it to pause and timeshift the programme you're watching for up to 150 minutes for SD broadcasts, or 60 minutes for HD. That'll come in handy given the somewhat tardy arrival of the Freeview HD DVRs that Reg Hardware has been chasing recently.