Iomega iConnect Wireless Data Station
Build your own Wi-Fi network storage
But perhaps that price is the snag. There currently seems to be a race to the bottom among storage manufacturers aiming at the consumer market, and in the rush details may be getting neglected.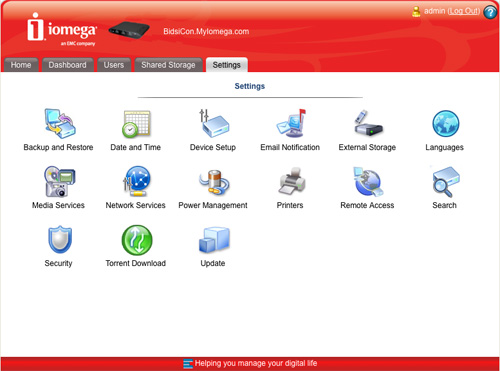 The main settings page is only visible to the admin
You'll want to jettison the Storage Manager software as soon as you get the web interface going, but the problems don't stop there. A Nas or DNLA device that keeps losing the network isn't going to be that useful. Annoyingly, on each reboot the machine sends me an email - I had to tell it my email address during setup - with the (erroneous) information that its IP address has changed.
Ah, probably needs a firmware update. The relevant web page from the machine announces the current version as 2.5.16.5761. "The device software is up to date," it says. On the web, though, the latest version is 2.5.22.7300, confirming my feeling that this piece of consumer kit isn't quite getting the attention it deserves from the mighty EMC that now owns Iomega.
Updating the firmware does seem to have fixed the rebooting problem, although I'm still getting those erroneous "IP has changed" emails. More mysteriously, since the firmware upgrade I've had a couple of emails from the machine saying "Ethernet connection is lost on LAN '1'" and "The device is unable to acquire your external IP address. Confirm that your device is connected to a router which connects to the Internet." The emails are wrong again, the machine is functioning fine. And - duh! - if it really can't find an Ethernet connection, how is it sending me email?