Iomega iConnect Wireless Data Station
Build your own Wi-Fi network storage
Unlike the Pogoplug - reviewed here - the iConnect is wireless capable and offers true Samba shares that require no special software on your client machines, whether they're Macs, Linux or Windows. But the Pogoplug lets you attach Mac-formatted storage - the iConnect's USB drives can only be Linux ext2 or Windows compatible.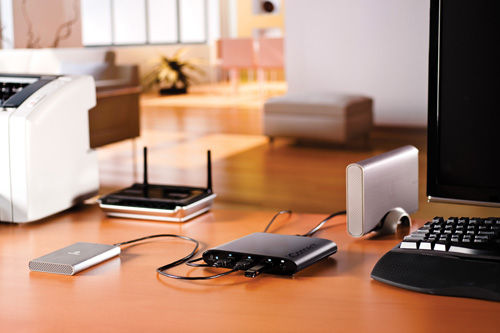 Share your drives
Like the Pogoplug, the iConnect also offers access across the Internet. The key difference is that the iConnect web service has a subscription cost, and only the first year comes free with the price of the box.
The BitTorrrent feature seems to work as advertised - except for the status page - but I wouldn't want to use it in practice. You can choose a port and set maximums for the download and upload speeds, but there's no scheduler - so you can't automatically throttle it down during the day if your ISP imposes daytime bandwidth restrictions. And there's no facility for protocol encryption, so you're probably sharing your torrent information with your ISP.
Verdict
The main problems I had with the iConnect mostly dissolved into niggles once I'd applied the firmware upgrade. If Internet access to your drives is important, go for the Pogoplug. Otherwise the iConnect is more generally useful and cheaper, if still, ah, improvable. ®
More Network Kit Reviews

Cloud Engines
Pogoplug
Asus
Home Server
TS Mini
Belkin
Home
Base
Conceptronic
Grab'n'Go

Iomega iConnect Wireless Data Station
A talented 'BYO drives' consumer NAS with a must-have spec and a very nice price, But marred by some poor firmware: cross your fingers and hope for updates.