Samsung Diva fashion phone
Here come the girls, etc, etc.
Reviews The design and marketing of the Diva clearly makes this a phone that Samsung is aiming at women. The clues are in the pearl white colour scheme and quilted pillow effect casing and the default pink screen theme, just in case you missed all those ads - haven't there been a lot of them lately?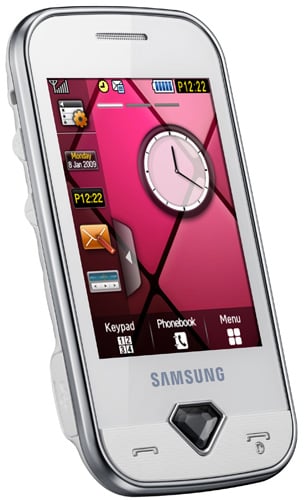 Samsung's Diva: diamond head
Perhaps the designers are all Footballers' Wives fans, but I can imagine this being a Marmite handset: some will love it, but others...
Incidentally, the S7070 is the fancier of the two Diva models – there's also a clamshell version, the S5150, with a similar style and spec which hasn't had an official UK release, though you can find it for sale online.
The Diva has a smartphone-style touchscreen atop a jewel-shaped button that looks like it may be a navpad but actually works as a back key. It's slim and lightweight, while the thin plastic back's padding-effect texture that feels nicely grippy in the hand. There's a strange hollow ring to it though which can be a bit disconcerting if you occasionally tap it while holding the phone to your ear. Call sound quality tends to be a bit on the tinny side too.
The 2.8in, 240 x 320 capacitive touchscreen runs to more than 16 million colours and looks good. It's sharp and clear, and decently sensitive too, responding well to brushes and presses, and offering the option of haptic feedback.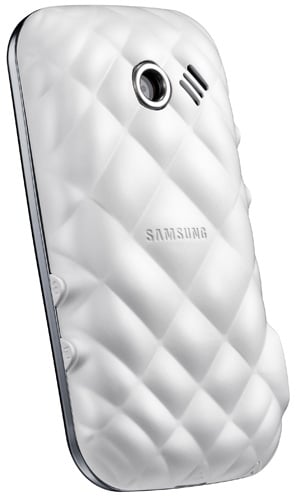 Quilty conscience
The Diva has Samsung's TouchWiz user interface, which was always something of a looker, with its myriad widgets that you can pull on to the home screen from a side bar. There are three homepages that you get to by brushing in either direction, and if pink's not your thing, there are other screen themes to choose from – most of them floral, however.