Obama may get personal V-22 Osprey tiltrotor
Fireproof astroturf lawn for the White House?
The official helicopter of the US President - known by the callsign "Marine One" when he is aboard, just as his jet is "Air Force One" - may in future be a V-22 "Osprey" tiltrotor rather than a normal whirlybird, according to reports.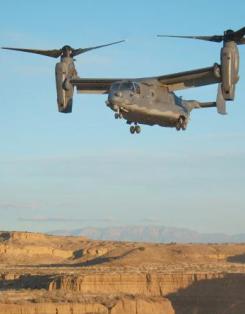 Sorry about your lawn, Mr President
DoD Buzz quotes US Marine Colonel Greg Masiello as stating yesterday that the Osprey will be considered as the new presidential vertical-takeoff craft, and that "it fits" onto the White House lawn, a key requirement for the task.
The choppers assigned to presidential VIP transport by the US Marines at present are aged Sea Kings, long since retired or relegated to second-line duties by most users*, and the Marines have been trying to replace them for years.
It had been decided to use a variant of the EH101 (aka "Merlin" in British service) made in Britain and Italy, modified for presidential requirements and made under licence by Lockheed of the USA. However, the relatively small European aircraft struggled to carry all the required communications kit - described as "an Oval Office in the sky" - not to mention the necessary hardening against electromagnetic pulses from nuclear weapons etc.
In the end the runaway cost of the presidential Merlin became an election issue. It was calculated that each copter would cost more than one of the Air Force One 747s, and then-Senator Obama characterised the project as "procurement run amuck".
The programme was duly axed shortly after he took office, and the Marines now plan to hold a new competition to find a new replacement for the present, ageing VH-3D Sea Kings. Contenders would naturally be put forward by the major US defence contractors - and it has now been confirmed that Boeing, makers of the Marines' infamous V-22 Osprey tiltrotor, will submit it for consideration.
Last time round the Osprey wasn't ready, for all that it had been in development for many years: desperate teething problems included several crashes during testing. But it has at long last reached frontline service with the US Marines and special forces, serving in Iraq and now Afghanistan.
It is still showing low rates of serviceability**, but Colonel Masiello reportedly expects these to improve. A special-forces Osprey recently crashed on operations, too, but again nobody seems worried: other aircraft were not grounded, and rumour has it that the prang was the result of "brownout" - dust kicked up during landing blinding the pilot.
One major reason that the Merlin was selected the first time around was that it's one of the bigger helicopters which can set down on the White House lawn without causing an unacceptable amount of destruction. This requirement might well have been thought to rule the Osprey out of the running, but if Colonel Masiello is to be believed that's not the case - at least on the matter of wing and rotor span.
That said, it has been officially acknowledged that the Osprey's downward-pointing jet exhausts are so hot and violent as to buckle the steel flight-decks of warships when setting down, so they would presumably cause a major headache for the White House gardeners if the V-22 wins the new competition.
Even so, a few rolls of new turf after every flight (or perhaps a patch of flame-proof astroturf) would be a relatively small expense in the general context of rotary-wing flying, let alone that of the V-22: and the tiltrotor's greater speed and height performance might well be considered an advantage when carrying a passenger whose time and safety are thought so important.
There can't be much doubt that the US Marines, who have fought with unbelievable tenacity to preserve the V-22 through its many troubles, would be glad indeed to use it in the Marine One role. ®
Bootnotes
*The UK is an exception, owing to our forces' unbelievably badly managed helicopter situation, and Royal Navy Sea Kings continue to support British forces in combat.
**Sixty-nine per cent availability across the fleet at present. However, this is expected to rise to 82 later this decade, contrasting favourably with - for example - the long-established Apache attack copter, whose target rate in US service is only 75 per cent.
Sponsored: Detecting cyber attacks as a small to medium business