Boffins turn Bunsen burners on Frank Skinner
Get back to the sofa, 'comedy' boy
"Science isn't fun. It's just maths in fancy dress," wrote TV presenter Frank Skinner in the Times on Friday, and it's earned a gentle rebuke from the Royal Society of Chemistry's chief executive Richard Pike. The RCS caustically calls Skinner a "comedian" only between inverted commas*. But Pike says he may be onto something.
Skinner complained that science is dull, and is appalled that "cute girls with purple hair and boys in skinny jeans" are buying popular science books. Perhaps this is a sign of insecurity, and that talking about anal sex and football is losing its pulling power. After a fairly gentle dig at Stephen Hawking, Skinner wonders:
"We're in awe of our boffin types, but we take what they tell us on trust because no non-scientist can break through the boredom barrier and check up on the facts themselves."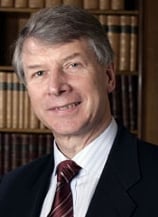 Richard Pike
Writing on the RSC's blog, Dr Pike wonders if Skinner was "making up jokes, instead of doing the experiments" at school, before admitting science has a perception problem, and more people should be able to follow scientific debates.
It's no wonder you get thicky responses like Skinner's, if education doesn't engage and enlighten:
"[Examination] Markers are instructed to accept scientifically incorrect answers to boost pass rates, and quangos then change grade thresholds if the pass rates are seen to be, politically, too high or low," writes Pike.
"Some other questions on the paper [for 16 year olds] were easier than those that 10 year-olds were doing at primary school fifty years ago."
Alas, Pike skirts around the problems with the single most-publicised science issue of the last 20 years. Environmentalism gave scientists the chance to wear the clothes of policy-makers-in-chief, pre-empting the democratic process, and dictating to our politicians and bureaucrats how the publics should live their lives. This is an exalted role they have quite enjoyed. Who doesn't want to be on the Telly?
Then came the Climategate shenanigans, and, the public could see all was not well. Contrary to what Skinner insists, the internet allows people to weigh up rival explanatory theories. But like Watergate, it isn't the "crimes" but the "cover up" that most dismays the public, and the Royal Societies aren't really helping clean up the mess.
"The science is settled," insists Pike. That's not a phrase fit for any post-Enlightenment age, especially not one in which science is either viewed as boring, or (as with Skinner) a semi-mystical con trick.
It's an interesting exchange. ®
*Bootnote
"Frank Skinner" could also have been dropped between scare quotes, since that's a stage name.