Spaceship 'salad units' to farm special astro strawberries
Efficient juicy fruits to ward off scurvy on Mars voyages
Fruity boffins in America say they have identified a type of strawberry which would be ideal for growing in hydroponic spacegoing mini-farms to feed astronauts on long-duration space voyages of the future - missions to Mars, for instance.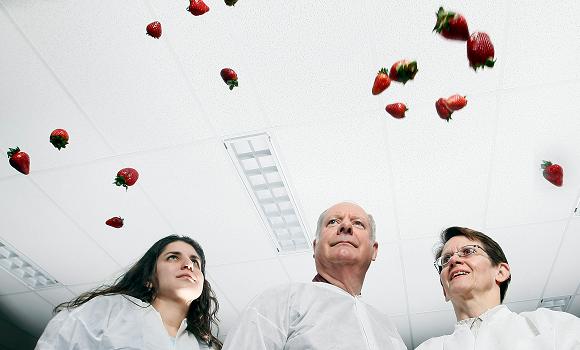 In related research, the boffins tested strawberries for use in French surrealist cinema
According to Cary Mitchell and his colleague Gioia Massa, horticulture profs, strawberries could be an ideal space crop as the plants are small and relatively low-maintenance. However they might also be considered something of a treat by bored astronauts, tired of their government-issue rat-piss sports drinks etc.
"The idea is to supplement the human diet with something people can look forward to," says Mitchell. "Fresh berries can certainly do that."
Even better, the "Seascape" variety of strawberry has an extra space-friendly feature, according to the boffins. You can cut down on the amount of time its grow-lights are left on: and while this means fewer berries, they are actually bigger, such that the same weight of grub is produced while saving on energy and on harvesting time.
"I was astounded that even with a day-neutral cultivar we were able to get basically the same amount of fruit with half the light," says Mitchell.
According to the researchers, funded by NASA and based at Purdue uni, early space farming efforts are likely to be deployed in the form of a "salad machine" mini greenhouse or "small growth unit" which will produce limited amounts of lettuce, radishes, tomatoes and such in order to supplement ordinary space tuck as eaten today. The only sweet crop likely to make it would be strawberries, they say.
"We're trying to think of the whole system -- growing food, preparing it and getting rid of the waste," Massa said. "Strawberries are easy to prepare and there's little waste."
The space strawberry research thus far can be read here (abstract free, subscription for the full paper). ®
Sponsored: Practical tips for Office 365 tenant-to-tenant migration