EMC shows storage recession is over
The bellwether rings it out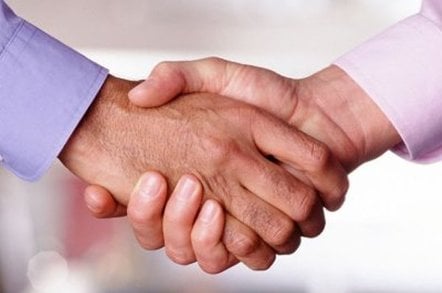 Storage bellweather EMC has signalled the end of the recession in storageland with an enviable set of results. It made record first quarter revenues of $3.9bn, up 23 per cent from a year ago. Net income was $373m, a whopping 92 per cent increase from the recession-blighted first 2009 quarter.
Highlights were 28 per cent year-on-year revenue growth for the high-end Symmetrix, where the V-Max transition is almost complete, and 32 per cent growth for the mid-range products (CLARiiON, Celerra, Centera, Data Domain, Avamar, Atmos). Data Domain and Avamar deduplicating backup and recovery products each grew over 100 per cent over the same period. EMC said Iomega met unrelenting demand. VMware contributed first-quarter revenue of $632m, increasing 34 per cent compared with the year-ago quarter.
Adding the VMware figure to the EMC-only revenue number above gives a consolidated revenue of $4.532bn. Channel partners like Dell brought in around three-quarters of the revenue for the mid-range products.
Growth in the concept management and archiving division was sluggish. First quarter revenues of $178m were up just two per cent on the year-ago quarter. The services business was much better, growing 13 per cent over the same period. A harsh judgement would be that Document is dragging these figures down.
EMC is now forecasting consolidated revenues of $16.5bn for 2010, half a billion more than it previously expected. CEO Joe Tucci reckons EMC can sustain double-digit revenue growth for the long term. The earnings call transcript showed CFO David Goulden was a very happy guy: "We clearly executed on our triple play. We gained market share, we invested for the future and we improved profitability."
Tucci said EMC is focussing on four multi-billion-dollar markets: Transforming data centres into private clouds, building out public clouds, deduplicating backup and recovery, and virtualising client devices. In preparation for a more unified mid-tier file and block offering, and because CLARiiON arrays are seen in Celerra and Data Domain products, EMC has stopped breaking out specific mid-range product revenues and lumps them all together.
Referring to the expected convergence of CLARiiON and Celerra systems Tucci said: "Certainly we are absolutely collapsing platforms, our big message is unified ... Unified is absolutely the way to go." Asked if server virtualisation helped in unifying products, he replied:
"The bigger [helper] is the Intel multi-core [processor]. It takes time to rework your products but it gives you the ability now with multi-core and reworking some of your products into more thread-like approach so to speak it helps a lot. You're right, there are products that we are putting natively under VMware and that overhead now is drastically reduced and gives us opportunities. It's a combination of multi-core and virtualisation. Mostly the native use of multi-core that we're doing."
He said the converged CLARIiON-Celerra product, thought to be called VCX, will not be out next quarter.
"First of all," he said, "I'm not going to say that that's the name of the product. We have not named it yet. Certainly the bloggosphere has named it. I kind of like the name by the way. It will not be out in Q2 ... There are a lot of newer, what we call the NS product family, which are unified which we've released fairly recently. We shouldn't get too hung up on whatever that code name is you used, VCX."
By "out" he could mean announced or shipped - it wasn't clear. Tucci also said that EMC wanted to expand its presence in the low end of mid-tier storage products, where it isn't as strong as it wants to be.
Talking of future acquisitions he said: "We are going to continue to buy companies both in VMware and in EMC."
The EMC results cap a sequence of sparkling quarterly reports from other storage companies like NetApp, Seagate, IBM's storage ops and Compellent. Yes, Compellent shares are down but's that's because of earnings, not revenues which were quite good.
One standout is FalconStor, whose storage software has not done well. Preliminary results for the first 2010 quarter are revenue to be in the range of $16.8-17.1m and a non-GAAP operating loss $5.8-$6.0m, due to lower than expected software license revenue. International software license revenue was highlighted as being down on a year-over-year basis.
Otherwise, storage companies are blossoming. It's spring, the winter recession is over and growth is being seen almost everywhere. ®