Billy Connolly invades TomTom (for £8.99)
No swearing, no dirty bits
We love Billy Connolly - but listening to the foul-mouthed comic day-in, day-out as the satnav voice in the car? That could be too much, even for diehards like us.
Today, the Big Yin joins the line-up of voices available to TomTom's 40 million users across Europe. They can download Billy's voice at http://www.tomtom.com/billyconnolly and listen to his jocular tones navigate them to their destination. And there's no swearing, and no impersonation.
Says Billy: "This really is Billy Connolly.  It's not the creepy guy you get on cheap birthday cards.  It's my real voice.  No swearing, no dirty bits, I'll keep you safe".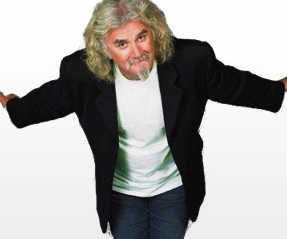 No swearing, no rude bits
Here's a selection of Billy's satnav instructions:
"Make a U turn.  None of this would have been necessary had you been listening a minute ago".
"U turn ahead.  I'll be here when you get back".
"After 300 yards you have reached your destination.  You may thank me and remember that without me none of this would have been possible and you would have been hopelessly lost."
"Toll charge.  I'm only doing my job.  Don't shoot the messenger."
TomTom is building up quite the catalogue of famous voices for the satnav, including John Cleese, SnoopDogg, Burt Reynolds, Dennis Hopper [and when he's dead? Ed] - Eddie Izzard, Homer Simpson and, weirdly, Sven Goran Eriksson.