Blighty's first home grown war robot takes to Welsh skies!
Pigs may not fly, but pork barrels can
The UK tentacle of French arms giant Thales is delighted today to announce that its new "Watchkeeper" drone aircraft for the British Army has made its first flight in UK airspace. The machine first flew in 2008, above Israel, where the Hermes 450 it is based on is made.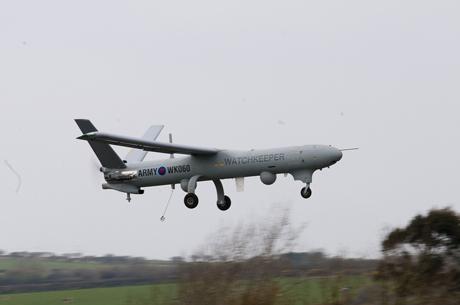 A slight £12m+ markup, but each one comes with 38 free arms workers!
"This is a momentous accomplishment in the Watchkeeper programme and just one of a number of flight trials scheduled over the coming months," enthused Alex Dorrian, Thales' UK chief.
"This milestone reflects the years of hard work by Thales UK, the MoD and other parties since the contract was signed," he added.
The 20-minute Watchkeeper flight took place yesterday at the new ParcAberporth drone-drome in Wales, operated by controversial MoD selloff bonanza firm Qinetiq, which it is hoped will become a huge economic boon for Wales as the UK robocraft business booms in future. For now though, the main job it has is testing Watchkeeper.
The Watchkeeper itself is a modification of the Hermes 450 craft from Elbit of Israel, which the British Army is already using in Afghanistan under a lease deal with Elbit and Thales. Watchkeeper is superior to a basic Hermes 450, however, as it carries a ground-moving-target-indicator radar (developed with the help of Thales' French operations) in addition to its electro-optical spyeye package.
The plan is for the British Watchkeepers and their engines to be made (or assembled, anyway) in Blighty. The aircraft will be put together at a company in Leicester called U-TacS, 51 per cent owned by Elbit - thus, Israeli-controlled. The UK engine-making factory will be fully Israeli-owned.
Apart from Thales' I-MASTER Franco-UK radar, various other European components will replace the ones used by Israel in the Hermes 450. This process is described by the Ministry of Defence (MoD) and Thales as essentially endowing Britain with a new unmanned-aircraft manufacturing base boasting 2000+ well-paid, skilled British jobs. This is the main reason why it is taking years and costing hundreds of millions to field a fairly ordinary radar+EO surveillance aircraft.