Shrek's Donkey poses with bustier-clad strumpet
Asinine fashion shoot shocker
DreamWorks and Paramount big-wigs are none too happy with a fashion shoot in men's mag VMan, featuring characters from the Shrek movie franchise cavorting with scantily-clad models.
The studio powers that be gave VMan the green light for the spread, apparently hoping for some top exposure before the imminent release of Shrek: Forever After. They did indeed get some top exposure, but not the kind they were hoping for: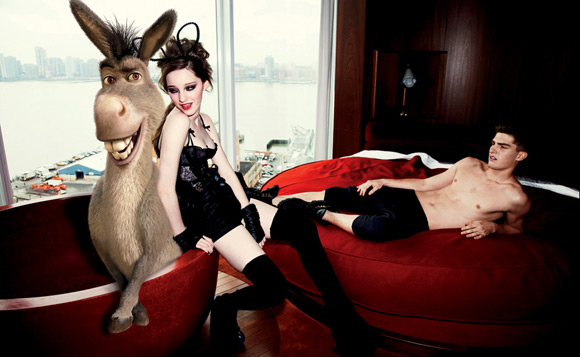 In case you're wondering, Emma is seen here wearing an Agent Provocateur bustier, shorts by Designers Remix, leg warmers and shoes by Alexander Wang, headband by Benoit Missolin, and gloves by Malene Birger. Paolo, meanwhile, sports leggings and boots by Dolce & Gabbana, while Donkey's mane is styled by Bernardo of San Francisco.
Just how risqué the rest of the material is, you can judge for yourselves here. A Paramount spokesman said: "While we do respect Vman's creative vision, the shoot did not turn out the way originally envisioned when the idea was first presented by the magazine."
According to the Telegraph, the studio seemingly got the idea that VMan was planning something along the lines of the "tasteful" Harper's Bazaar punt of the The Simpsons Movie, in which Homer and family posed in Chanel, Hermes and Versace prior to the film's release.
While Paramount will not take legal action against VMan over the outrage, its spokesman sighed: "In hindsight, we would have declined to include the Shrek characters in such a magazine spread." ®