Lenovo ThinkPad X100e
Cheapest ThinkPad ever, anyone?
One factor in a consumer laptop that can't be underestimated is the software bundle, and usually this is an overwhelming negative. In keeping with its business heritage, however, the X100e comes with a minimum of crapware. There's the Lenovo ThinkVantage tools application, a welcome alternative to the ever-sprawling Windows control panel. This provides the usual diagnostics, recovery and driver support, backup and restore, network connections, and a password manager. Apart from Adobe's Reader there are options to instal Symantec and Skype and a 60-day Office 2007 trial. But that's it, really.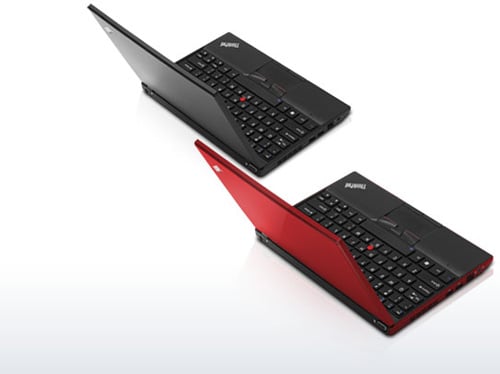 Also available in red – shocker
With a size and weight similar to some of its Thinkpad X series siblings that are twice the price, the X100e is going to attract a lot of interest. Particularly with the excellent keyboard and basic, but chunkily robust construction. This is an ideal form factor for a second, occasional use machine. The X100e is in the netbook price range, yet it comes with full Windows 7 Professional, and Lenovo's support options. But it's getting mighty crowded in the market.
Most of the competition that's based on Intel's CULV (Centrino Ultra Low Voltage) chips is priced considerably higher, for example Acer's Aspire Timeline P4810T. Toshiba's T135, which claims a nine hour battery life, is quality competition, as is Samsung's X120, a similarly sized and priced contender. And if you include the grey channel and second hand market, then prices for Toshiba's sub-2lb Portege R500, and even Lenovo's own X200, plummet towards £500.
Verdict
Compared with these options, your £400-odd doesn't get you a machine with outstanding battery life, or great performance. So for some, the X100e might fall between two stools. But for conservative buyers, or those valuing robustness over whizz-bang features, and for those who find netbooks have too many compromises, the X100e is a strong contender. ®
More Netbook Reviews…

Dell
Mini 10
Acer
Aspire One
532
Asus
Eee PC
1005PE
Nokia
Booklet 3G

Lenovo ThinkPad X100e
Ultraportable notebook with Windows 7 Professional and a touch of ThinkPad flair.