Lenovo ThinkPad X100e
Cheapest ThinkPad ever, anyone?
It's a chiclet-style design, and a slightly better-sprung feel than similar Apple keyboards, for example. The sculpted keys and ample travel make for excellent typing, as does the sensible keyboard layout. It's a world apart from the cramped compromises of netbooks, even the best of these cannot claim all these features.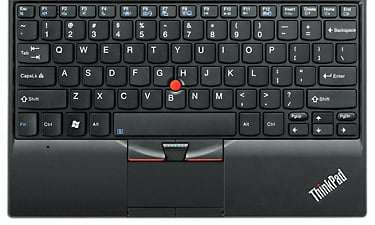 The keyboard is arguably this ThinkPad's best feature
So the X100e is going to attract interest from people who don't need to need to lug their gigantic media libraries around with them, but want to use a second (or third) machine primarily for document creation, and I found the keyboard to be as good as any ThinkPad I've used. It's spill-proof, too, meaning coffee slops drain away. Incidentally, the X100e and Edge both abandon the Page Back/Forward keys for smaller, lower PgUp and PgDn buttons.
Construction is well up to expected standards. The hinges are stiff, and there's no flex on the keyboard, or LED-lit screen. Almost all netbooks or laptops at this price suffer the curse of gloss, a fashion abberation to match flared trousers. Since there's no gloss anywhere, here, it's no fingerprint magnet.
There's no compromise with the inclusion of both trackpad and TrackPoint, but the former is marred by buttons flush with the front side of the machine. Unfortunately, when the case is shut, these provide the only natural recess with which to prise it open. There's no latch, so pulling open the machine is more difficult than it needs to be, because care must be taken not to apply any pressure to the underside of the buttons. It's a very un-Thinkpad like design flaw.
On this model, Lenovo skimps on the indicators: the charging light is fitful. The machine features integrated 3G support and 802.11n Wi-Fi. Lenovo's excellent connections toolbox means switching between radios, and internet connections, was easy. The X100e found a signal in reasonably good time, although this isn't one of Windows 7's strong points. Unusually for a Trackpad, and perhaps with the netbook audience in mind, there's an integrated webcam.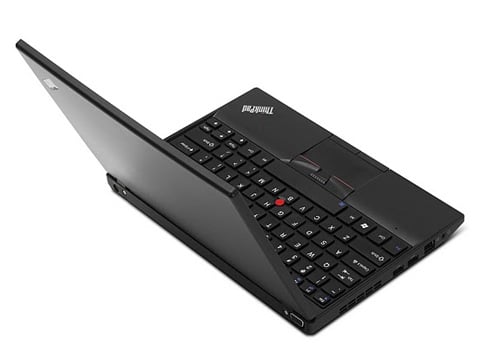 Still looks the business
The X100e is powered by a single core Athlon NEO MV-40, with an ATI Radeon HD 3200 chip. 2GB of memory is fitted, with 1776MB available to the system. The rear of the machine gets pretty warm, but the cooling system pumps out the heat efficiently, and quietly too: the X100e was inaudible in our office even during the Benchmark tests. It's really a tale of two chips: connected, and disconnected. Out of the box performance on the battery was poor. Yet after a week, and on mains, the X100e proved itself perfectly capable.