Lenovo ThinkPad X100e
Cheapest ThinkPad ever, anyone?
Review As netbooks approach adolescence, they're outgrowing the original bargain basement specs and compromises acceptable to a beach girl, and heading towards £500. But around this price they're meeting ever-cheaper thin and light notebooks, or "ultraportables". The result is an overcrowded and confusing market place.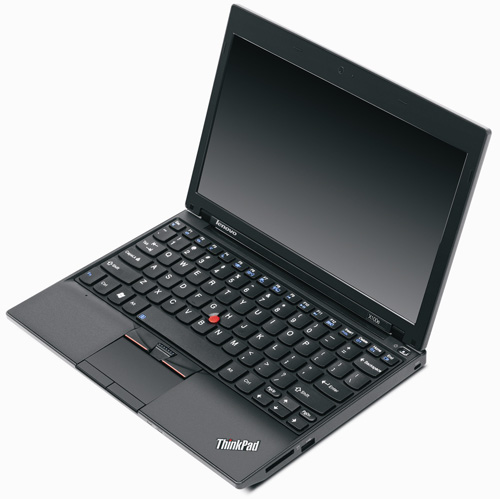 The second laptop? Lenovo's ThinkPad X100e
It's into this that Lenovo has pitched a couple of offerings, both ThinkPad branded and either side of the £500 price point, but based on AMD's new Athlon Neo chips. The X100e here is the cheaper of the two, and the first Thinkpad in the UK to be priced below £400. But how much ThinkPad quality has found its way into the box?
The X100e looks the part, and you do get some welcome Thinkpad hallmarks for your money. A street price of £400-£500 buys you an outstanding keyboard, robust construction, a TrackPoint, and all-matt finish. But there's no rollover cage, use of magnesium alloy, docking facility, or other small features expected on a member of the Thinkpad range, such as a keyboard lighting.
From a distance, it looks like a classic X23/30/40/60/200 series model, that's undergone a slight shrink. The design owes a lot to Apple's basic MacBook. Here's an 11.6in display with a 1366 x 768 resolution in a machine weighing in at 1.47kg. Curiously, this makes it a shade smaller than the biggest member of Lenovo's own IdeaPad netbook range, the 12.1in S12. £500 can buy you a lot of laptop, but here, you're very much paying for the form factor.
Missing is a CD-Rom drive, which isn't unusual, but there's no HDMI (or even DVI) output either. The HDMI port is increasingly common on netbooks and a big convenience for home media systems. Forget about FireWire, too. Turn the X100e around and an ungainly 6-cell battery protrudes from the machine's backside. The smaller 3-cell battery doesn't seem to be an option for UK buyers.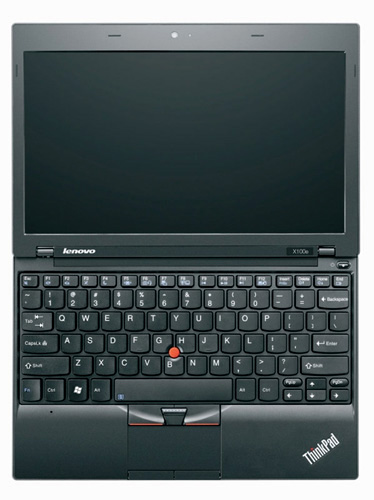 A nice touch? TrackPoint's appeal still holds for many
The plus points are an outstanding keyboard, the inclusion of both Trackpad and a genuine TrackPoint, and the promise of a genuine GPU on board, a rare beast indeed for something with a netbook's weight and price. The keyboard is undoubtedly the machine's strongest point.