Labour shock pledge: 16.8-meg broadband for ALL by 2012!
The Thick of IT
The Labour party has mounted a strong counterattack against the Tories' determined push to present themselves as the most technologically illiterate of the mainstream UK parties.
As part of Labour's election manifesto, unveiled today, the present government was widely expected to renew previous pledges that every household in Blighty would soon be connected to a line capable of providing normal-ish 2 megabit/sec broadband speeds. But in fact Labour have gone much further: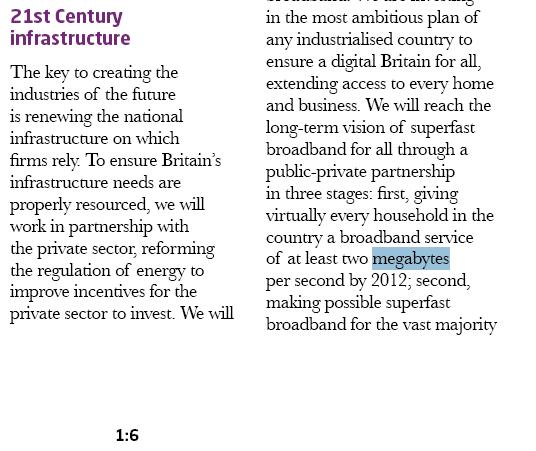 Megabit, megabyte. Who cares except nerds, right?
This is a notable difference, of course, as two megabytes is no less than 16,777,216 bits - say 16.8 megabits. Many existing copper phone lines - the majority means of delivering broadband to the UK home - struggle even to provide the rather paltry 2 Mbit/sec that Labour meant to promise, and a majority are quite incapable of 16 Mbit/sec in reality (no matter the exorbitant "rates of up to this or that" promises made by ISPs).
BT executives, in charge of most of these phone lines, will no doubt be spitting coffee all over their screens as they learn that they'll have to get every line in the country up to 17-meg standards in less than 19 months after a Labour victory.
Or they would if this isn't simply a case of politicians and those who work for them knowing almost nothing of technology, anyway, as seems likely.
And don't think that voting Tory is going to usher in a new age of well-informed ministers either, as this recent contribution to the Reg by shadow housing minister Grant Shapps illustrates all too well. ®
Bootnote
Many thanks to Reg reader Andrew and the many others who pointed out the relevant passage.
Sponsored: How to Process, Wrangle, Analyze and Visualize your Data with Three Complementary Tools