To connect or not to connect?
More from readers on real-world ERP practicalities
Workshop Following our recent discussion of the pros, cons and practicalities of hooking up your ERP system to the outside world, we thought it would be good to tap into the views of Reg readers on the topic. So we put up a poll with an open comment facility and, true to form, almost 50 readers came back with their own experiences at the sharp end.
To recap, the topic we are talking about here is the practice of putting integration links in place between yours and someone else's ERP system, typically to automate the exchange and matching of documents such as purchase orders, invoices and delivery notes between customers, suppliers and intermediaries. This kind of business to business (B2B) integration can be achieved through traditional EDI (Electronic Data Interchange) mechanisms and/or using more modern XML based messaging. Direct hook up in this way can also be extended to handle the synchronisation of planning information, forecasting data, product specs and even design information in a collaborative development and production environment.
It all sounds very useful and there are clearly benefits in terms of lowering administrative overheads, minimising manual errors and generally driving faster and more efficient business processes. From a practical perspective, however, as some readers pointed out in the comments received via our poll, the whole thing can be a lot harder to pull off than you might imagine:
Local Government use one thing, National Press use another, some have SAP, some have Microsoft Dynamics, others have something written on a napkin. Nobody's data structure is the same and each one has a different communication flavour.

Multi-language, multi-OS, multi-platform interops are possible, but increase lifecycle maintenance so much that it should be avoided.

This is very expensive if the development costs cannot be spread over many customers
Indeed some readers felt the issues were just too great to justify getting into B2B integration at all:
We refuse to play the ERP link up game. If suppliers try to force us this way they can sod off.

Just don't do it!
As part of the poll, we explicitly asked respondents about a range of potential challenges that we in Freeform Dynamics have frequently come across over the years in this area. Looking at the results of this, it is telling that the most frequently cited issue was not to do with anything technical, but the willingness of other parties to put in the necessary effort to hold up their end of the deal (see Figure 1, below).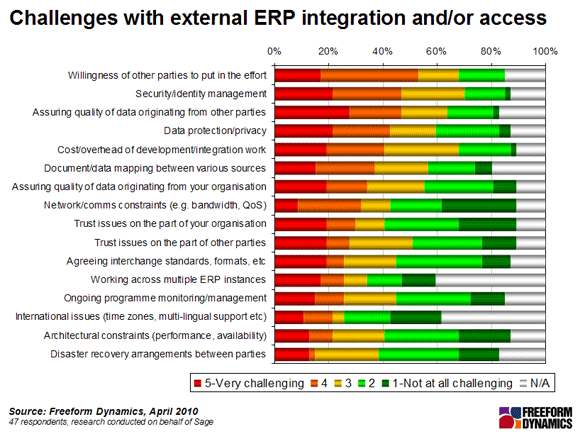 Figure 1
As we can see, a lot of the other issues standing out are to do with information management in one way or another – data security, quality, consistency, mapping and so on. This underlines the fact that the physical and mechanical side of the equation is the least of people's worries when it comes to pulling off a cross-business integration exercise.
Sponsored: Webcast: Why you need managed detection and response