Get ready for the revolution: internet TVs
Connect the set
Panasonic
Panasonic's VieraCast system, which we tested on a V10 set, is the mainstay of the manufacturer's connected TVs. Accessed by a dedicated button on the remote control, it provides access to a range of online services, principally video-based, but with a couple of extras.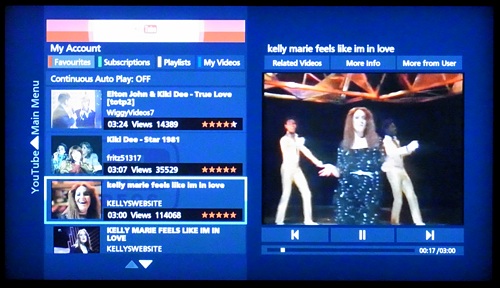 YouTube on the tube: Panasonic's VieraCast
The main menu is based around a grid of icons, with the current TV input showing in the centre and seven squares around it. A recent update to the VieraCast home screen adds 'more' and 'back' arrows bottom centre, so you can access additional screens, and you can also arrange which applications go where.
That's perhaps more useful for people elsewhere in Europe - services like the Q.Tom video jukebox aren't available in the UK, and others, like Taggeschau or Nova aren't in English. But UK users will still find the weather, Picasa, EuroSport Daily Motion and YouTube applications useful.
Navigating to an option is easy, and once selected, it takes over the whole screen. It's easy to set up things like the default country for the weather, and both Picasa and YouTube allow you to sign in to your account.
In the case of YouTube, that's particularly useful, as you can use the same account as you do on your computer. Searching with the TV remote's mobile-phone style keyboard works, but it's easier to mark favourites on your PC or Mac, and then play them on the TV.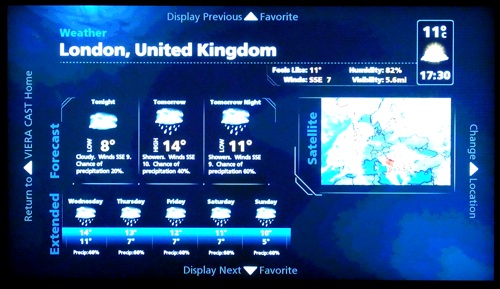 Check the weather
As with other consumer electronic implementations of YouTube, though, the new 'Shows' section is absent. Even if you mark, say, a 4oD item as a favourite on your PC, you won't be able to play it on the TV.
It's worth noting that there are new VieraCast applications coming this year, but some of them specifically won't be supported on older sets, including Skype and a new video rental service.