HTC Desire
Living up to its name?
To the left of the central homepage is your email widget, which displays a scrolling list of your latest messages, then the extremely useful and rather lovely FriendStream feature that pulls all your Facebook, Twitter and Flickr updates into one scrolling update page. Press and hold each update and you'll see all the related posts (Facebook – why not the full Facebook app though?) or your full stream (Twitter).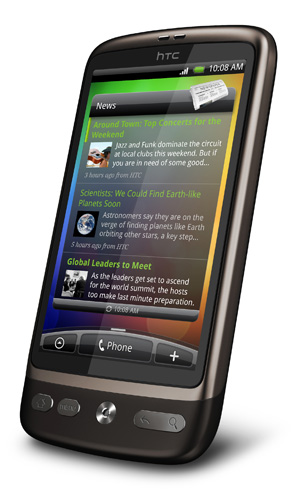 Social networking features abound
Systems like this and Motorola's Motoblur are fast becoming essentials in today's always-connected world, and it's only surprising that all the manufacturers don't have their own versions, rather than individual apps that only connect you to their online source (we're looking at you Samsung).
Other full-page widgets include the weather, your contacts list and a news feed that shows a scrolling list of the latest stories and invites you to open RSS feeds to a broad range of themed news providers, including the BBC, CNN, The Guardian and dozens of others. Yes, you can do this on lots of phones nowadays, but it offers an easy and practical way to set up and view news feeds on your favourite subjects.
Email accounts are easy to set up with most requiring only address and password and the phone will match your Facebook contact details to your contacts book on the handset. Both portrait and landscape versions of the onscreen keyboard worked beautifully by the way, and you can adjust the screen sensitivity so you can type with the right amount of pressure to suit your style. The 1GHz Qualcomm Snapdragon processor is nifty too, and I never noticed any sluggishness when switching between apps, when browsing or when viewing films.
With no dedicated shutter button on the side you'll need the onscreen camera icon to access the 5Mp camera. The shutter is then operated by pressing the trackpad or with an onscreen button. HTC is often let down by the camera on its phones but here it's less of an embarrassment than we've become used to. Touch the trackpad lightly for the autofocus to sort itself out, then press to snap – it means you tend not to have quite as steady a hold as you would with a side-mounted shutter button but it's okay.
Picture quality is now in the 'it'll do' category. Edges could perhaps be a little sharper, and it doesn't tend to handle too much or too little light very well, but colour balance is generally good. There are few frills – just face detection and a few colour effects – with no panorama or macro modes, though brightness and contrast can be adjusted with some nifty onscreen dials.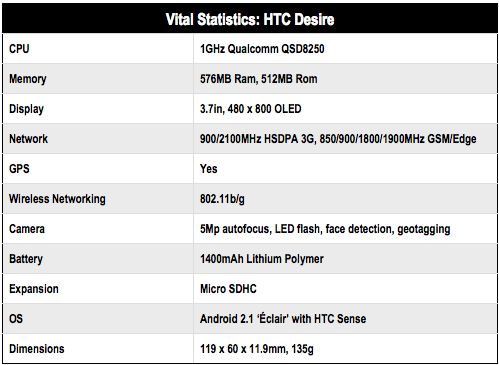 Sponsored: How to Process, Wrangle, Analyze and Visualize your Data with Three Complementary Tools