AMD has announced a new graphics card that can fill six displays with over one billion pixels per second to provide what the company unblushingly claims to be "the ultimate in entertainment and productivity".
The Wednesday announcement of the expansively named ATI Radeon HD 5870 Eyefinity 6 Edition notes that users of the card can benefit from the "well-developed ecosystem" of ATI's Eyefinity technology, and that the new card will use updated Catalyst drivers.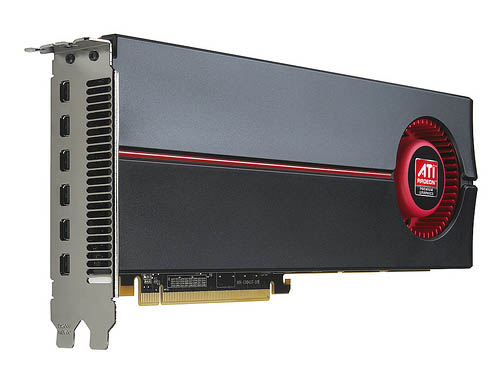 Six independent display controllers support either six independent displays or one unified mega-view
Although AMD pays some lip service to the Eyefinity 6's productivity capabilities - think multiple-monitor spreadsheet, business intelligence, and newsfeed setups - the card's clear target is the gamer who wants a wrap-around, immersive experience. As the company gushes: "Think of it as Surround Sight." The release specifically cites Codemasters' DiRT 2 and EA's Battlefield: Bad Company 2, both which can take advantage of the card's DirectX 11 support.
Bezel compensation is available in the March 2010 Catalyst 10.3 driver, but to benefit from it, all your displays will need to have pixel densities of within five per cent of each other.
The Radeon HD 5870 GPU driving the Eyefinity 6 is a 40 nanometer, 2.1 billion transistors beastie with 1,600 stream processing units. Its GDDR5 interface provides 153.6 gigabytes per second of bandwidth - the Eyefinity 6 comes with 2GB of GDDR5 memory. It supports OpenGL 3.2 and OpenCL 1.0, and connects to your machine over its PCI Express 2.1 x16 bus interface.
A full listing of the ATI Radeon HD 5870 Eyefinity 6 Edition's specs, speeds, and feeds can be found here. Pricing and availability were not included in today's announcement, and AMD did not immediately respond to our requests for any hint as to when the Eyefinity 6 might be available and how much it might set you back. ®
Sponsored: Ransomware has gone nuclear