Creative Vado HD
Singapore-style point and shoot camcorder
Review After a long period in which Creative Labs seemed to do little other than sit back and spend the $100m that it won from Apple in a lawsuit over the iPod, the Singaporean giant now appears to be stirring from its slumbers. Promising "some cool stuff on the horizon", a Creative spokesman recently delivered unto Reg Hardware a whole heap of gadgets, including the latest version of its Vado HD pocket camcorder.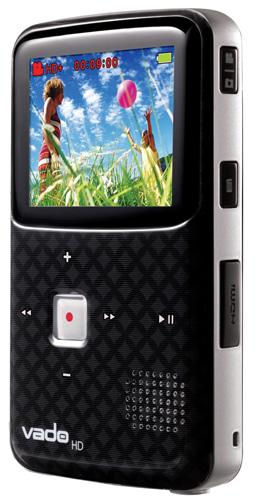 Creative's Vado HD in its third generation guise
The basic design of this third-gen model hasn't changed drastically. It's about the same size as its predecessor, measuring 60mm wide, 100mm high and just 15mm thick. However, the lens on the front doesn't jut forward quite as much as it did on previous models, while the buttons on the back have been reduced to just a single 'Record' button.
Surrounding the record button is a group of five touch-sensitive controls that lie flush with the surface of the unit. These allow you to adjust the digital zoom and exposure settings, and to preview your saved videos and photos on the 2in screen. The overall effect is to give the new Vado HD a more streamlined look and feel, and we found it quite comfortable to use during our tests.
There's a mini-HDMI port on the right-hand edge for connecting to an HDTV, and a "multi-function" jack on the top-left corner that provides AV output for non-HDMI TVs, as well as headphone audio output and the option to connect an external stereo microphone as an alternative to the basic built-in mic. The bottom edge of the camcorder houses the pop-out USB connector and a tripod socket. Creative also includes an HDMI cable in the box, along with a USB extension cable.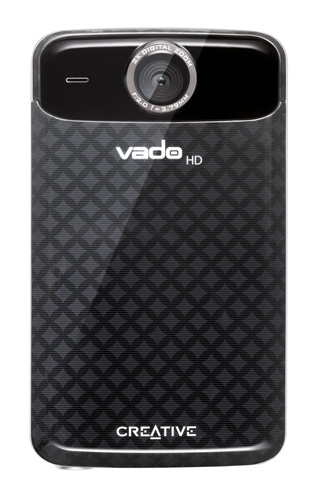 No optical zoom, just 2x digital
This new model has the same 720p resolution as its predecessor, and Creative told us that it will cost £130 with 4GB of storage. It's not on sale in the UK until this week, and Creative's website still lists the second-generation model at £180 with 8GB storage. However, shop around online and you can find that old 8GB model for about £90, so it might be worth waiting to see the what's on offer for this new model in the coming weeks.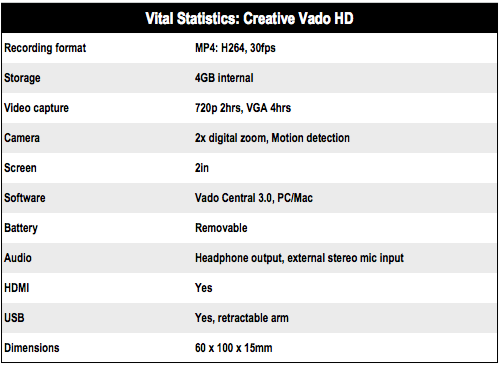 Sponsored: How to Process, Wrangle, Analyze and Visualize your Data with Three Complementary Tools