Royal Navy starts work on new, pointless frigates
First two: HMSs Wag The Dog and Self-Licking Icecream
Merchantman v frigate combat ship? Merchantman wins, probably
Apart from sub-hunting, a frigate also has surface-to-surface missiles - probably Harpoons like today's ships, certainly if BAE's concept pics are anything to go by. These can be used to attack other ships far away below the horizon if the frigate has a good idea of their location; there is also a version with limited land-attack capability.
But eight Harpoons isn't an amount of punch you would need a several-thousand-ton ship with a crew in three figures to carry. Eight Harpoons would call for a fast-attack boat, or a corvette at best. And frankly, given that you're going to need aircraft to find or confirm the far-away targets to begin with, it makes more sense to deliver the munitions by air as well. Carrier jets are a much more sensible option here than frigates: helicopters can also carry powerful air-to-surface weapons.
In general, in a hypothetical battle between a Type 26 combat ship and an unarmed enemy merchant ship carrying several helicopters to the 26's single one, the merchant ship will probably win as it can keep aircraft flying round the clock. The merchant ship can also do a better job at hunting subs, for the same reason.
The Type 26s will "support land operations", the navy says. By this they mean it will be able to carry a small number of troops, and its helicopter - though usually it will be one designed primarily for antisubmarine work - will be able to fly over land. The ship will also be able to bombard targets ashore with its medium-calibre gun turret.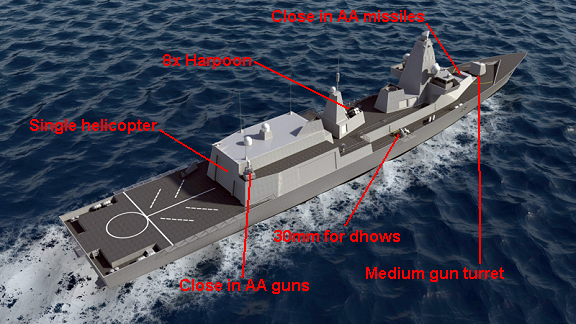 This, however, is a combat ship. Quite different
Again, though, a fleet auxiliary merchantman comes out ahead. It can carry many more troops, plus vehicles and supplies for them and several helicopters to the frigate's one. Inshore gun bombardment isn't a big deal: the frigate makes a superb target for any enemy shore-based batteries, which are likely to significantly outrange and out-punch it if they exist, and furthermore it has only enough shells for about ten minutes' firing.