Apple uncloaks deep details of its 11 iPad apps
Holy tablet is not giant iPhone
iBooks, Safari, and Photos
iBooks is the key app in Apple's attempt to dethrone Amazon's Kindle and have the iPad take over the ebook world. Two obvious differences between the two are the iPad's support for color versus the Kindle's monochrome e-paper, and the iPad's backlighting, which the Guided Tour notes can be dimmed for reading in low-light situations without blinding you.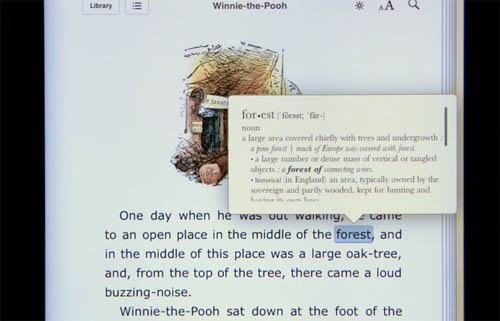 A built-in dictionary support tap-to-define
iBooks also allows you to change an ebook's font size and style, to look up words by tapping and accessing the iPad's built-in dictionary service, and to search for all occurrences of a word in a book - we're looking forward to testing the snappiness of this latter capability by searching for the word "Russia" in War and Peace.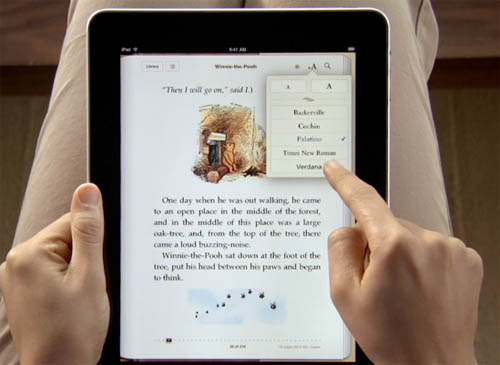 Don't like serif type? How about a nice sans serif Verdana?
Books are stored as cover icons stacked in a too-cute-by-half graphic of a bookshelf. They're added to that bookshelf by accessing Apple's online iBookstore, from which e-books can be downloaded. In the Guided Tour demo, a variety of book prices are shown, from free to $14.99 for Stephen King's Under the Dome.
Safari on the iPad has a number of improvements over that browser's iPhone incarnation. Bookmarks, for example, can be displayed in a proper bookmarks bar, and managing them is handled in a straighforward Bookmarks list. Bookmarks can also be placed in folders in the bookmarks bar, as they can be in Safari for the Mac and PC.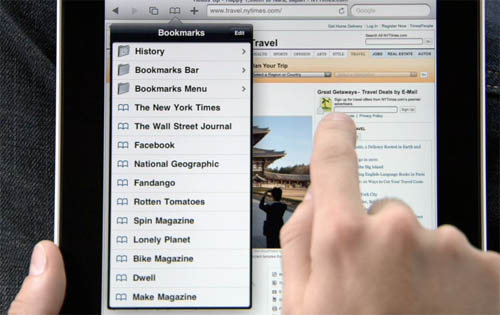 The iPad's Safari handles bookmarks far, far better than does the iPhone's version - not that that's difficult
The iPad's Photos is also a noticeable step up from the iPhone's version, carrying over such Mac iPhoto capabilities as displaying photos grouped by the people appearing in them, a function of iPhoto's face-recognition technology. To use this feature, however, you need to add the photos from iPhoto, which first does the heavy face-recognition lifting then transfers the results to the iPad.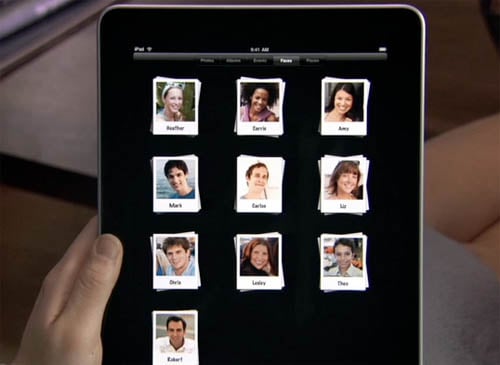 If you load your photos onto the iPad via iPhoto, they can be sorted by the faces of the folks appearing in them
Photos also borrows iPhoto's location capabilities, showing geotagged photos on a map, grouped by where they were shot. Photo navigation, including a skimmer bar, is much improved over the iPhone's simplistic listings, and slideshows - with music chosen from the iPad's iPod app - come replete with tricky transitions such as a photo-unfolding Origami effect.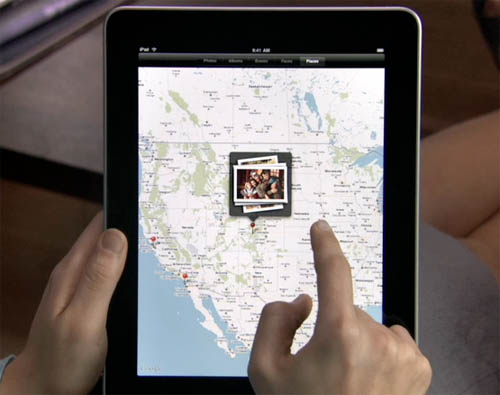 If your camera can geotag photos, the iPad can display a map showing where they were shot
You can load your photos onto the iPad through iPhoto or by using the optional iPad Camera Connection Kit (price not yet announced) that lets you link to the camera over USB or by inserting your camera's SD card.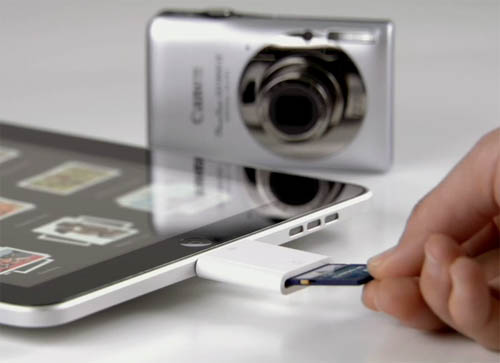 Load your photos with the optional card reader and you'll lose iPhoto's organizational chops