Apple uncloaks deep details of its 11 iPad apps
Holy tablet is not giant iPhone
Pages and Numbers
Pages is also template-based, with 16 Apple-designed templates available for such page-layout projects as newsletters, reports, flyers, and the like. While it won't remind anyone of QuarkXPress or InDesign, the Mac version of Pages is a simple-but-effective way to quickly whip up printable docs, and from the Guided Tour it appears that the iPad version is about as capable.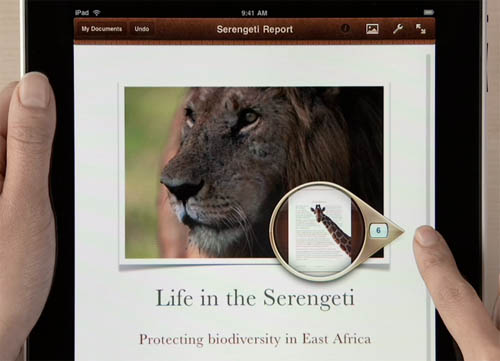 One nifty Pages navigation trick: a sliding "loupe" that gives quick previews of your doc's contents
As with Keynote, Pages uses pop-up windows to give you control over such layout elements as fonts, line spacing, word-wrap style and tightness, photos and photo borders and so on. And like its Mac version, you can open Microsoft Word files in Pages and save Pages files in Microsoft Word format.
Numbers, when it first appeared on the Mac as part of the original iWork '08, was touted by Steve Jobs as a spreadsheet for folks who didn't need all the power of, say, Microsoft Excel - and it certainly lacked a ton of Excel's abilities. Since that August 2007 introduction, however, Numbers' capabilities have grown, and from its video in the iPad Guided Tour, its newer features appear to have been brought over into the version for Apple's new tablet.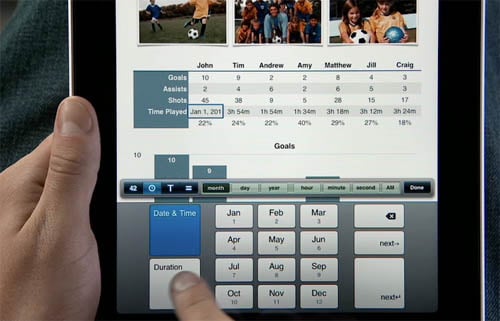 When entering dates into Numbers, a date-specific soft keyboard appears
In addition to Numbers' most-useful advantage over Excel - the ability to have multiple row-and-column sets on the same page, each with different column widths - the iPad Numbers adds onscreen keyboards that change entry buttons to match the contents expected by a selected cell.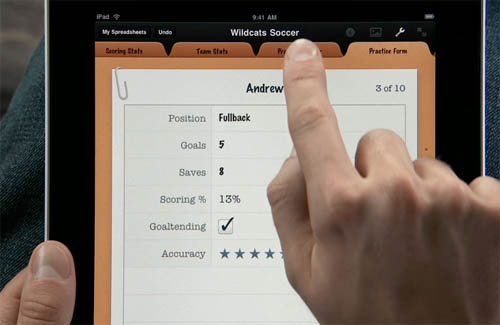 Numbers includes preset forms that can be used to enter data into spreadsheets
Like the multi-touch Keynote and Pages, Numbers comes supplied with 16 templates consisting of pre-built set-ups for such common spreadsheets as budgets, loan comparisons, mortgage calculations and travel planning. In keeping with Apple's "Everything must look pretty" prime directive, graphs in numbers are, well, pretty, and offer a reasonable degree of customizability.
Over 250 functions are built-in, including such categories as engineering, financial, statistical, and garden-variety numerical. You can import spreadsheets from Numbers on the Mac, or from Excel spreadsheets created on a Mac or Windows PC.