Vodafone: get your Sony Ericsson X10 from us on 2 April
Orange is not the only fruit
There's a huge buzz about the Xperia X10 - the upcoming Android smartphone from Sony Ericsson - and if you're keen to get your hands on one, Vodafone will set you a handset on 2 April, it said today.
The operator said the X10 will be available for free on monthly contracts from £35 - with a two-year tie-in - providing 900 minutes' call time, unlimited texts and 500MB of mobile internet.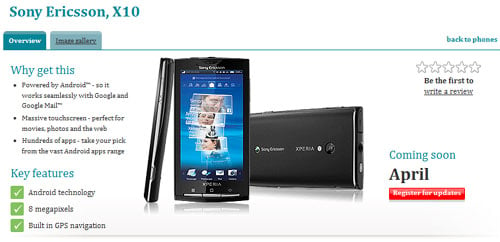 Sony Ericsson will be pushing the X10 hard next month, touting its 4in touchscreen and custom TimeScape social networking-centric UI. You can see our video demo here.
The X10 also sports an 8.1Mp, auto-focus camera; 1GHz Qualcomm Snapdragon processor; Assisted GPS; 1GB of internal memory plus an 8GB Micro SD card.
In addition to Vodafone, Virgin Media will also be offering the handset, as will Orange. In fact, the French-owned operator has the exclusive on the white X10 - everyone else's is black. ®