Dell Mini 10
A chip off the old block?
The Ethernet port is only 10/100Mbps, rather than Gigabit and there's no HDMI connector, just VGA. You get the usual three USB ports, 3-in-1 card reader and 3.5mm audio jacks, yet none of the USB ports will charge your mobile devices when the 10 is switched off. Unlike some previous Dell netbooks the RAM is not soldered in, so it can be upgraded to a maximum of 2GB but the job involves removing the keyboard.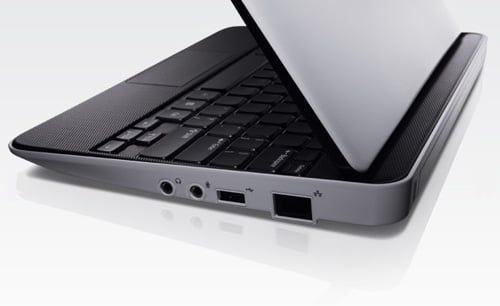 No 802.11n Wi-Fi and no Gigabit Ethernet either
According to Dell the 10 is available with three types of battery: a 28WHr 3-cell unit and two 6-cell units rated at 56 and 60WHr. We could find no way of ordering the more powerful 6-cell power pack. Presumably, it will ship with the hi-res, 1366 x 768 screen option when that appears later in the year. Our Windows 7 Starter review unit came with a standard 56WHr, 5600mAh 6-cell battery so it's likely the entry-level XP version gets the smaller power pack. The new Mini 10 runs Windows 7 Starter with much the same grace and pace as the Samsung N140 and N220, which means it is tolerable, as long as you aren't in a hurry and don't expect your applications to snap into action like an army salute. At least Windows 7 brings with it WMP12 with its native support of H.264 video. This, when combined with the new chipset, does make Pine Trail netbooks rather more competent HD video players than their GMA950 equipped forebears, although 1080p playback is still touch-and-go.
While on matters OS-related a quick boot from an Ubuntu 9.10 memory stick highlighted no problems with the Dell wireless card, keyboard touch pad, 1.3Mp web cam or built-in microphone, all of which worked out of the box.
Our usual PCMark05 benchtests and the VLC battery test revealed, once again, that the main advantage to be gained from Intel's new netbook chippery concerns battery performance. In short, the new machines do nothing much better than the old, they just do it for longer. Actually, a lot longer. The best we managed to ring from a full charge was 8hrs 45mins with the Wi-Fi radio on for about half that time and the screen brightness dialled down to 40 per cent. Our standard VLC video test produced a result of six hours on the nose which compared well to the Samsung N220 which has an extra 300mAh on tap while 3DMark06 turned in a not unexpectedly wretched score of 164.