Eye-Fi launches X2 wireless SD cards in UK
Network connections for your camera
Wireless SD Card maker Eye-Fi has updated its line-up and queued the cards up to arrive on shop shelves at the end of April.
The new, "X2" range comprises the Connect, Explore and Pro cards, offering 4GB, 8GB and 8GB of on-board storage, respectively. They are Class 6 SD cards and incorporate 802.11n Wi-Fi.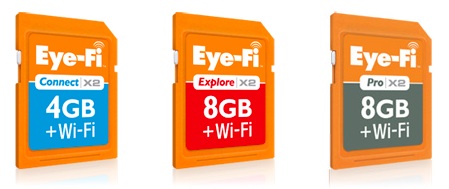 Designed for your digital camera, the Connect will automatically upload pictures to a network-connected computer and, through your router, to picture sites like Flickr and Picasa. It costs £50.
The Explore adds geotagging, but you'll pay a further £50 for that and the extra 4GB of storage.
The £120 Pro has the ability to connect directly to a computer when there's no Wi-Fi hotspot the two can hook up to. ®