BlueArc extending its circle
Now for the entry entry-level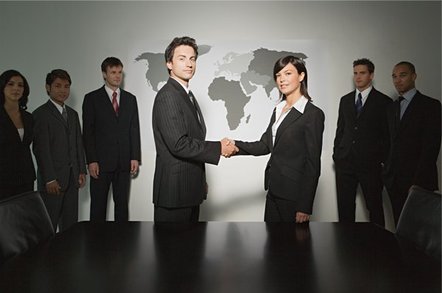 Comment Having started out at the high-end NAS level with Titan and secured its mid-range offering with Mercury, BlueArc is now set on introducing a low-end product.
The company produces FPGA (Field Programmable Gate Array) hardware-accelerated, network-attached storage (NAS) products with the ability to cluster up to eight Titans together. Titans scale up to 4PB of capacity and clustering them scales out to well north of that.
The nodes occupy a single name space and BlueArc says that its products span the performance spectrum from very high-performance NAS to low-cost archival storage.
BlueArc is happy that the demand for unstructured data storage is exploding, and very happy that increasing server virtualisation is driving increased demand for file storage. The market seems to be going its way - LSI buying OnStor, Dell buying Exadata assets, and IBM introducing its SONAS product are all characterised as proof points for this BlueArc view.
Gustafson's view is that "eighty per cent of the world's [digital] content will be unstructured in the next few years". It means that file storage systems will have to scale even more than they do now. He said the scale aspect of BlueArc products are going to be enhanced with Parallel NFS (pNFS) support, with BlueArc likely to introduce a PAFS (Parallel Aggregate File System) capability to its software.
BlueArc needs to increase its revenues and has been doing that by building out its channel. In October last year SGI signed an OEM deal with BlueArc, joining existing OEM Hitachi Data Systems whose HNAS product uses BlueArc technology.
BlueArc is also building out its reseller channel, with around 20 now across Europe. It says it has quadrupled its investment in Europe in the past few years and has added staff, particularly in pre- and post-sales support.
The other plank in this strategy is to broaden the product range and Gustafson reckons BlueArc currently addresses about three quarters of the total filer market, saying: "The challenge for us is the entry entry-level, not the mid-range."
We're looking at BlueArc introducing a new product, smaller in scale than Mercury, announced in July last year, but still using the FPGA approach. The Titan product uses the seventh generation of BlueArc's FPGA technology. Gustafson said: "Moore's Law applies to FPGAs; you get smaller FPGA sizes with more gates."
BlueArc will not rely solely on X86 server hardware, as every other NAS supplier and their brother can do the same thing. It reckons the combination of its SiliconFS software and its FPGA hardware gives it an edge.
We're guessing that we'll see another solar system-sourced name, perhaps using a moon from a major planet such as Jupiter or Saturn, where Titan comes from. Maybe we'll get Europa or, if BlueArc has a sense of fun, Saturn's Pandora.
Asked about Avere's multi-tiered filer accelerator, Gustafson said BlueArc similarly saw a need for finer-granularity tiering of file data. For example, it sees a need to have separate tiers for storing file metadata and file data, such that metadata lookups could be very fast. We might expect announcements around this later in the year, perhaps at the mid-year point. Isilon offered metadata stored in flash memory last month.
Sponsored: Minds Mastering Machines - Call for papers now open