Orange claims Xperia X10 exclusive
Check the small print
Orange has said that it has won the exclusive on Sony Ericsson's eagerly anticipated Android-based smartphone, the Xperia X10.
That claim came as some surprise to Virgin Media, which announced last week that it will be offering the X10 in April.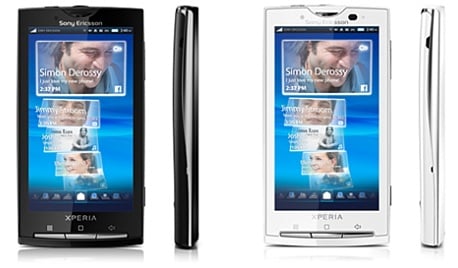 Sony Ericsson's Xperia X10: if you want the white one, you'll have to turn Orange
The key to the paradox is the device's colour. VM will be selling the X10 in its black form. Orange has the exclusive solely on the white model but, like VM, will be offering the black one too.
Vodafone will also sell you a black X10.
Sony Ericsson will be pushing the X10 hard next month, touting the handset's 4in touchscreen and TimeScape social networking-centric UI. You can see our video demo here.
The X10 also sports an 8.1Mp, auto-focus camera, 1GHz Qualcomm Snapdragon processor, A-GPS, 1GB of internal memory plus an 8GB Micro SD card.