Sony PS3 Slim
Leaner looks and price too
Media playback on the PS3 Slim is pretty much standard with playback of MPEG-1, MPEG-2, and MPEG-4/H.264 video files from USB or disc. The slideshow feature supports JPEG images and is functional and well designed visually. The web browser is not as good as any standard PC browser, but it does the job. At the back there is an Ethernet jack, an HDMI output and an optical digital audio output and AV output for analogue audio and video.

The interfacing options will satisfy most home set-ups
In my opinion, game play on the PS3 Slim is very similar to the previous version of the PS3. Although there is little difference between the two when it comes to loading times or response, it still offers an amazing gaming experience. However, it seems a shame that even though the new PS3 has more raw power than the Xbox 360 this doesn't translate into a larger variety of exclusive gaming titles.
Cutting edge graphics and immersive sound complete the game play experience. For instance while playing Uncharted 2 I feel that the action is complemented by some of the most impressive visuals I have seen on PS3 Slim or indeed any gaming console.
The atmosphere is immersive; by swinging the camera around you can admire the sights and sounds of an absorbing tropical environment. The characters move and interact with each other subtly, making them seem almost lifelike. Yet even with all this detail, the game runs smoothly during the most intense fights. It would seem this is due to the raw power running through this console.
Playstation 3 gaming is poised to enter a renaissance, always assuming that they can produce more titles at the quality level of God of War III – released yesterday, review coming soon. But in order to blow a hole in the Halo and Gears of War Xbox 360 dominance, Sony really needs to offer more in that range of high quality games.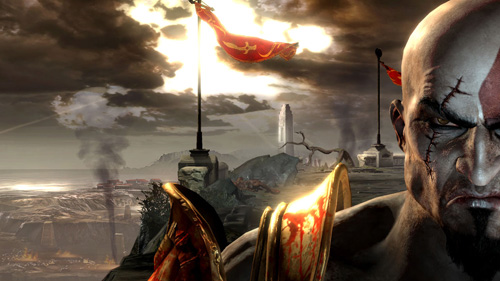 The recent release of God of War III is set to be a visual feast for the PS3 faithful
Unfortunately, there are a couple of big drawbacks to the PS3 Slim, which could also be seen as downgrades. Unlike the original 'fat version', there is no backward compatibility with PS2 games, which is a shame, and may discourage a wider budget audience from buying it.
Sponsored: Quit your addiction to storage