Site News International managed hosting provider, PEER 1 Hosting, today announces its sponsorship of the UK's Next Space programme which will witness the exciting launch of a high-tech paper plane, named Vulture 1, into space.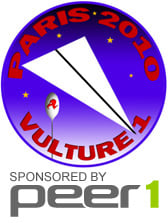 The mission is set for take-off in Summer 2010. The Paper Aircraft Released Into Space (PARIS) programme, inspired by Robert Harrison's Icarus and the Cambridge University Spaceflight, aims to restore national pride in space exploration by setting the longest paper plane flight ever recorded. The PEER 1 Hosting sponsored aircraft will be lifted into the stratosphere where it will be released and history made.
The aircraft's design still remains a top secret but what is certain is that it will carry a miniature camera, the Flycam, which will provide spectacular shots during its flight. It will also be equipped with a GPS system to track its progress and ensure its safe recovery and return.
Dominic Monkhouse, Managing Director, PEER 1 Hosting commented; "It is a huge privilege to be involved in such a ground-breaking programme. PEER 1 Hosting is all about innovation, doing things better and delivering outstanding performance, so we see significant parallels with the quality, engineering and excitement surrounding the Vulture 1 Mission."
Phillip Mitchell, Operations Director of The Register said: "This is a truly exciting mission and is all about pushing the boundaries of space exploration. We are delighted that PEER 1 Hosting has come on board and with their support and enthusiasm we are sure to make this mission a success."
For those wanting to follow the Vulture 1 mission, updates including design details of the aircraft will be regularly published on PEER 1's blog, http://www.peer1hosting.co.uk/blog. ®
Sponsored: Webcast: Simplify data protection on AWS