Apple board member Jerry York dies at 71
Turned IBM around, predicted GM's demise
Jerome York, the financial mind and turnaround expert who most recently shared his business acumen as a long-serving member of Apple's board of directors, died Thursday morning of a brain aneurysm suffered Tuesday. York was 71 years old.
"Jerry joined Apple's Board in 1997 when most doubted the company's future," said Apple CEO Steve Jobs in a statement. "He has been a pillar of financial and business expertise and insight on our Board for over a dozen years. It's been a privilege to know and work with Jerry, and I'm going to miss him a lot."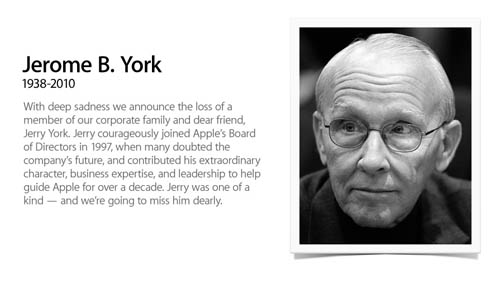 Apple's home page on March 18, noting the death of board member Jerry York
In addition to working with Jobs to save Apple from near-collapse, York is credited with helping engineer IBM's turnaround in the early 1990s as Big Blue's CFO, where he instituted rigorous cost-cutting measures.
York also worked with each of America's "Big Three" automakers. After a brief stint at the Ford Motor Company, York joined Chrysler in 1979 when that company was also in dire straits. At Chrysler, he contributed to the production of the company-saving Chrysler K-Car platform.
According to the Wall Street Journal, York's stint at General Motors was less successful - but not for lack of foresight. As a member of GM's board, York predicted in 2006 that if the company didn't cut costs, retire marques, and overhaul its structure in "crisis mode," as he told the WSJ, "the unthinkable could happen".
GM management didn't listen, York left the board in October 2006 - and in June 2009 the company, dropping like a stone, filed for bankruptcy.
The WSJ also reports that York was one tough customer. "He would rip people apart who didn't deliver," one IBMer told the Journal.
And now the Apple board of directors numbers six. ®
Sponsored: Your Guide to Becoming Truly Data-Driven with Unrivalled Data Analytics Performance