Mole-cruiser planned to attack Iranian nuke bunkers
Pentagon's rum burrower-bomb revealed
The US military is looking for help in building a robotic subterranean mole-craft, intended to deliver burrowing kamikaze strikes against underground bunker complexes and suchlike.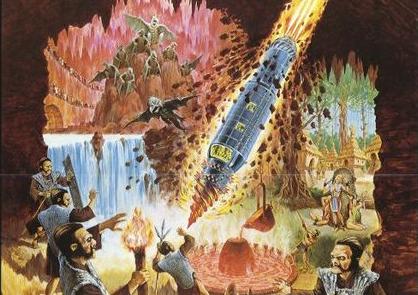 This is a bloody strange nuke bunker.
This news comes to us courtesy of a US government request for information, flagged up by the excellent Ares blog, in which the Defense Threat Reduction Agency - charged with reducing threats from enemy nuclear arsenals and so forth by whatever means come to hand - seeks help in building a "Robotic Underground Munition", or RUM.
The DTRA - the same organisation which is engaged in equipping America's batwinged stealth bombers with mighty bunker-piercing penetrators - says that the RUM mole-weapon should be an "air-delivered, highly mobile vehicle having certain characteristics similar to an unmanned ground vehicle".
The Fantastic-Mr-Fox-style digger droid is expected to be delivered by air, making an "accurate soft landing" - perhaps by the use of a precision-guided parachute system or something similar - before heading underground to reach its target. It must be capable of "autonomous underground navigation", and should also have an "underground communication system"*.
The RUM is to be able to "avoid, traverse, neutralize or defeat natural and man-made obstacles" - such as, for instance, the many metres of dirt, rock and reinforced concrete fortifications which protect such targets as the buried uranium centrifuge bunkers of Natanz in Iran.
It seems clear that the RUM would carry a conventional explosive warhead, which it would detonate once it had bored through or around the defences of a bunker complex, subterranean lair or whatever.
Nonetheless it would of course be simple to remove the warhead - presumably a pretty hefty one, in the range of tons like ordinary penetration bombs - and use the space instead to carry passengers. Thus the long-awaited mole cruiser would finally exist.
Ares chose to go with the Thunderbirds mole vehicle as a comparison. We ourselves would put up the "iron mole" from At the Earth's Core.
All that said, this is only a request for information by the Pentagon: they explicitly state that nothing may come of it. ®
Bootnote
*DARPA are currently working on just such technology, as it happens, based on geolocation by picking up "sferics" from lightning strikes far away coupled with low-frequency reference signals from a base station in a neighbouring country.
Sponsored: Webcast: Why you need managed detection and response