AMD to pitch Fusion chip at netbooks, ultrathins
'Bobcat'-based CPUs out in 2011
Claims that AMD has a some kind of Damascene conversion and is to finally target the netbook sector directly are, frankly, nonsense.
An old slide showing the chip maker's notebook roadmap re-appeared this week, and pundits rushed with 'AMD targets netbook' stories after spotting 'Ontario', a dual-core chip that contains AMD's long-awaited 'Bobcat' core - a design we first wrote about in June 2007.
Ontario, part of AMD's Fusion line-up, will have an on-board DirectX 11-compatible GPU. It was made public by AMD back in November 2009.
In the roadmap chart, Ontario stretches from the "Ultrathin" laptop segment - the arena Intel targets with its Consumer Ultra-Low Voltage (CULV) chippery - into the netbook space.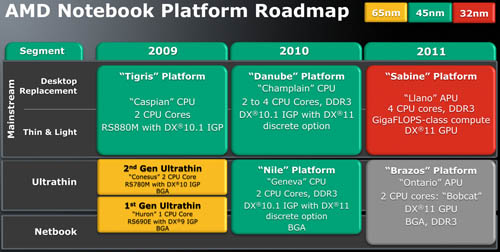 AMD's roadmap, from November 2009
Now, it is interesting that AMD includes netbook band on the chart, but it also list products going back into 2009 that also enter this category.
Some observers may say this is an exercise in rewriting history. Having never before acknowledged netbooks as a product type worthy of consideration, AMD is now being forced to 'airbrush the photo' to show it does cater for these machines.
Actually, it always did. For the last few years, AMD has consistently said netbooks are essentially just small laptops, and so don't require a dedicated, netbook-centric processor. Yes, its main competitor released a chip that was just that - a part for netbooks and nowt else - but AMD has steadfastly insisted its existing and future chip lines are sufficient for netbook manufacturers.
It has a point. For all that some netbook proponents have insisted that these small machines are there solely for web browsing, email and other cloud applications, the ones that have sold in the greatest volumes include Windows, big hard drives and large - for netbooks - 10in screens.
Buyers want netbooks to be like full-size notebooks, only smaller. This is why Linux-based netbooks are few in number, and SSD-equipped models fewer still.
And while there was once a gap between netbooks and notebooks, the rise in the past 12 months or so of the 11.6in and 12in CULV machines has created what is a continuum running from 10in mini-laptops up to 17in desktop replacement beasts.
AMD has, and has had for some time, chips that target the top half of the market and others that have been designed for the bottom half. That last group always included netbooks.
Of course, where the Bobcat-based Ontario will be able to compete with Atom better than its predecessors have remains to be seen, as will whether this year's ultrathin/netbook processor, 'Geneva', can tempt netbook and notebook makers away from the Intel chip.
Only if, after all its arguments, AMD suddenly says it needs a netbook-specific processor brand will claims it has completely changed its mind be valid. ®
Sponsored: What next after Netezza?