'Phantom Eye' hydrogen strato-spy drone starts building
Cruises 12 miles up on pair of Ford car engines
'Phantom'ware ... ghosts of dead projects from the past?
The mighty globocorp may find that it has had a march stolen on it here, however, as the rival Global Observer hydrogen strato-drone from California firm Aerovironment already has US government customers: a third Global Observer was ordered last year by a group of six different government agencies including the Special Operations Command.
Aerovironment also claim significantly better performance than the Phantom Eye, saying that the Observer can stay at 65,000 feet for "five to seven" days rather than just four. Like the Eye, the Observer uses an internal-combustion engine running on hydrogen, but it drives its props using a generator and electric motors.
The Eye would seem to be simply a twin engined version of the Phantom Works' previous Orion drone, which used a prop driven directly by the same kind of Ford engine which will fly in the Eye. Boeing say they will follow on with a bigger job that can stay up for ten days in due course: though a few years ago this was being promised for the Orion's successor.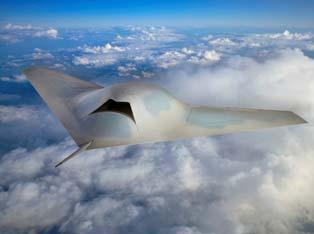 No actual raygun on offer, though.
Meanwhile, the Phantom Works seems to have dusted off another old project that was sitting around without a buyer, namely the X-45C unmanned stealth combat jet, which failed to pique the interest of the US Air Force: though the X-47B robot carrier plane from rival Northrop Grumman is still proceeding for the US Navy.
Now in a crazy new camouflaged paintjob, the X-45C is being carried forward by Boeing using its own money under the name "Phantom Ray", perhaps hoping to prevent any future Pentagon business going to upstarts like General Atomics - who have lately brought out their new jet-powered "Avenger" robobird, building on the success of the Predator and Reaper drones.
Boeing's whizz-tech chiefs will no doubt be hoping that their newly-rebranded line of Phantomware does better in future than it has done so far. ®
Bootnote
*The firm seems lately to have adopted a policy of inserting the Phantom tag into many of the prototypes developed there: hence Phantom Eye, Phantom Ray etc.
Sponsored: Becoming a Pragmatic Security Leader