Toshiba Satellite U500 Ducati Edition
Superbike performance?
Review When you think of Italian superbike marques, you think of the colour red - a vigorous, powerful, thrusting hue. Yet Toshiba has chosen to deck its Ducati-themed Satellite U500 out in - dare we say it, slightly feminine - white.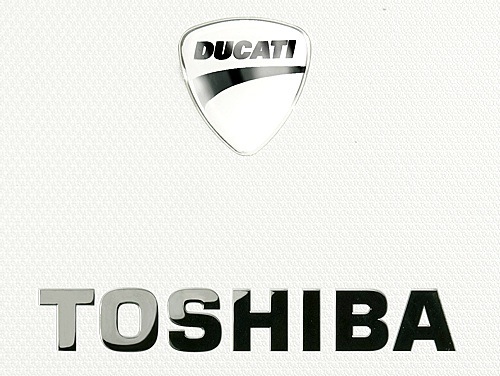 Toshiba and Ducati: marque 'book pro?
You can understand why. When Acer ponied up for the Ferrari brand, it grabbed the right to release red laptops. And Asus' Lamborghini licence grants it the exclusive on glossy yellow. Toshiba has been left to come up with an alternative, and it's chosen white, to signify luxury.
The keyboard surround and wrist rest area, and the laptop's lid, have been given an almost leather-like texture to suggest speedboat upholstery. We'll drift away for a moment to contemplate a bikini-clad honey draped decoratively across its bows...
Back to the real world, and what we have here is a rather chunky 13.3in laptop sporting a 2.53GHz Core 2 Duo P8700 processor - 3MB of cache, 1066MHz frontside bus - 4GB of 800MHz DDR 2 memory, a 400GB Sata hard drive, multi-format DVD writer, 802.11n Wi-Fi and Nvidia GeForce G210M graphics.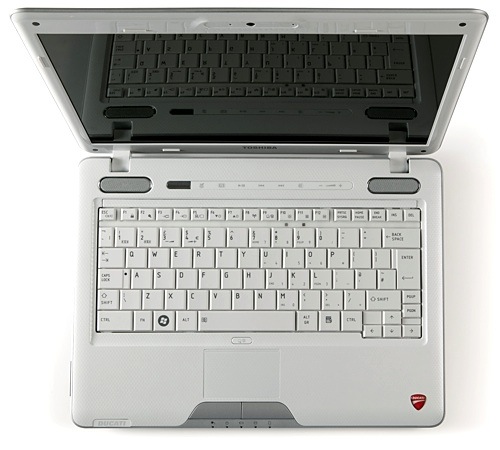 Textured white styling equals 'luxury'
Lesser U500s are also available, minus the Ducati branding and de luxe styling, but both with 2.13GHz Core i3-330M processors and 4GB of 1066MHz DDR 3. Faster memory, yes, but weaker, integrated graphics built into the i3.